When creating a distinctive brand identity, the process as a whole can feel overwhelming. It can be difficult to know where exactly to start, whether you're crafting the outcome yourself or hiring a graphic designer to do the job. There are are dozens of variables that come into play and all have an integral role in making your brand stand out next to potentially thousands of others with similar offerings. How do you break it down into manageable, bite-sized pieces?

Thankfully, a new book has come to the rescue — and it's here to guide you through your branding journey, from start to finish. How To Style Your Brand
is indispensable. It's a resource that both small business owners and brand designers can reach for when they're feeling unsure or stuck. The content is accessible and the stunning imagery contributed by the world's top brand designers back up the concepts for easy comprehension. It's the book that you wish you'd had when you were crafting your first brand and looking over your shoulder, wondering if the outcome measured up.
How To Style Your Brand is the brainchild of Fiona Humberstone, an expert brand stylist who has helped develop brand identities for hundreds of companies around the world and I'm honored to have our branding for Olivine Atelier included in a spread inside the book.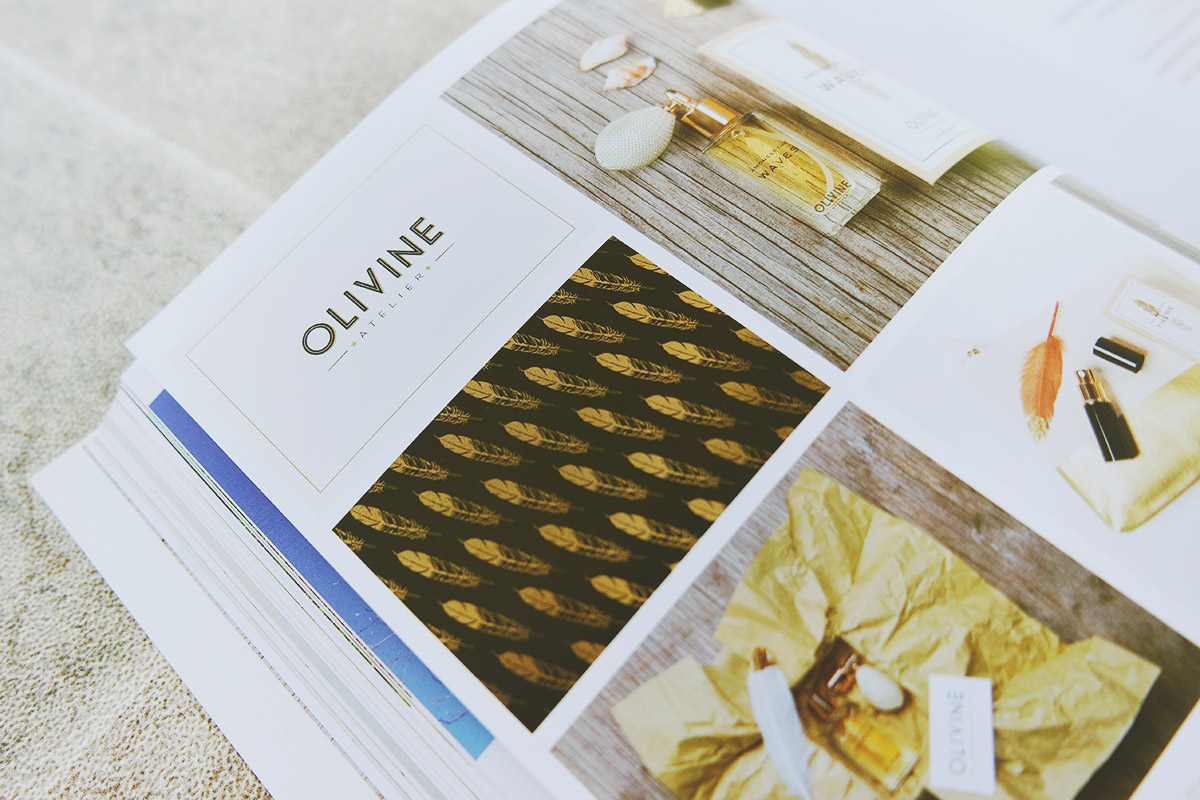 Olivine Atelier features handcrafted blends of natural ingredients that create distinctively warm, feminine scents. When crafting this brand, we honed in on nature-derived elements like a gold-tipped feather icon and housed the products in earth-friendly, unbleached cardstock boxes that were branded with thick, matte labels and gold-flecked twine.
Branding is your business' face to the world and the key to helping you attract the right kinds of clients but let's be honest — the investment can be hefty, especially for small businesses. To make sure you recoup your costs, the outcome has to be a good fit. The stylized yet natural feel of Olivine struck a chord almost immediately with Anthropologie, who picked up the line and it's continued to expand ever since.
Branding is an art in itself and it can feel elusive at times. There's not a single, proven formula to create a hit, but there are guidelines and processes that can take much of the guesswork out of it. To learn more about brand styling, visit Fiona's blog and purchase her wonderful book right here
.
Finally, if you're interested in reading more about the processes and projects from How To Style Your Brand's featured designers, check out the sites of Braizen, The People Shop, Flowerona and Create.
Thanks as always for reading! Your support means the world to me and Branch. —Shauna
Images courtesy of Fiona Humberstone and Shauna Haider.