Today marks the launch of the new branding for alternative wedding blog Rock n Roll Bride! This is a big week for Kat and her crew because in a few days, her newly designed magazine also hits newsstands. You'll now be able to walk into grocery stores and shops across the U.K. and pick up a copy. Pretty exciting stuff for a lady who once upon a time started a wedding blog as a mere hobby!
Shauna here — I met Kat back in 2010 when she came to me needing a more professional logo. The not-so-secret secret is that I knew absolutely nothing about weddings. Zilch. At the time, I was surprised that she even wanted to work with me but looking back, it turned out to be a blessing in disguise because I wasn't tempted to follow the industry trends.
We bypassed the pastels, watercolors and handwritten type of her competitors for something decidedly more rock and roll. The logo held up pretty well as Kat's blog continued to grow, soon becoming one of the top ranked in the wedding industry.

Then, we hit an unexpected snag: while her logo worked well in a horizontal format as a blog header, it wasn't quite so legible once she started publishing a magazine (see here) because of the sheer length of the name.
This summer, as Branch took over the design duties of Kat's magazine with the task of redesigning it from the ground up, we revisited the branding issue. The legibility and scale had to be solved immediately because the magazine was no longer self-published — it was now going to be distributed across the U.K. meaning that it had to be easy to read, even at a quick glance.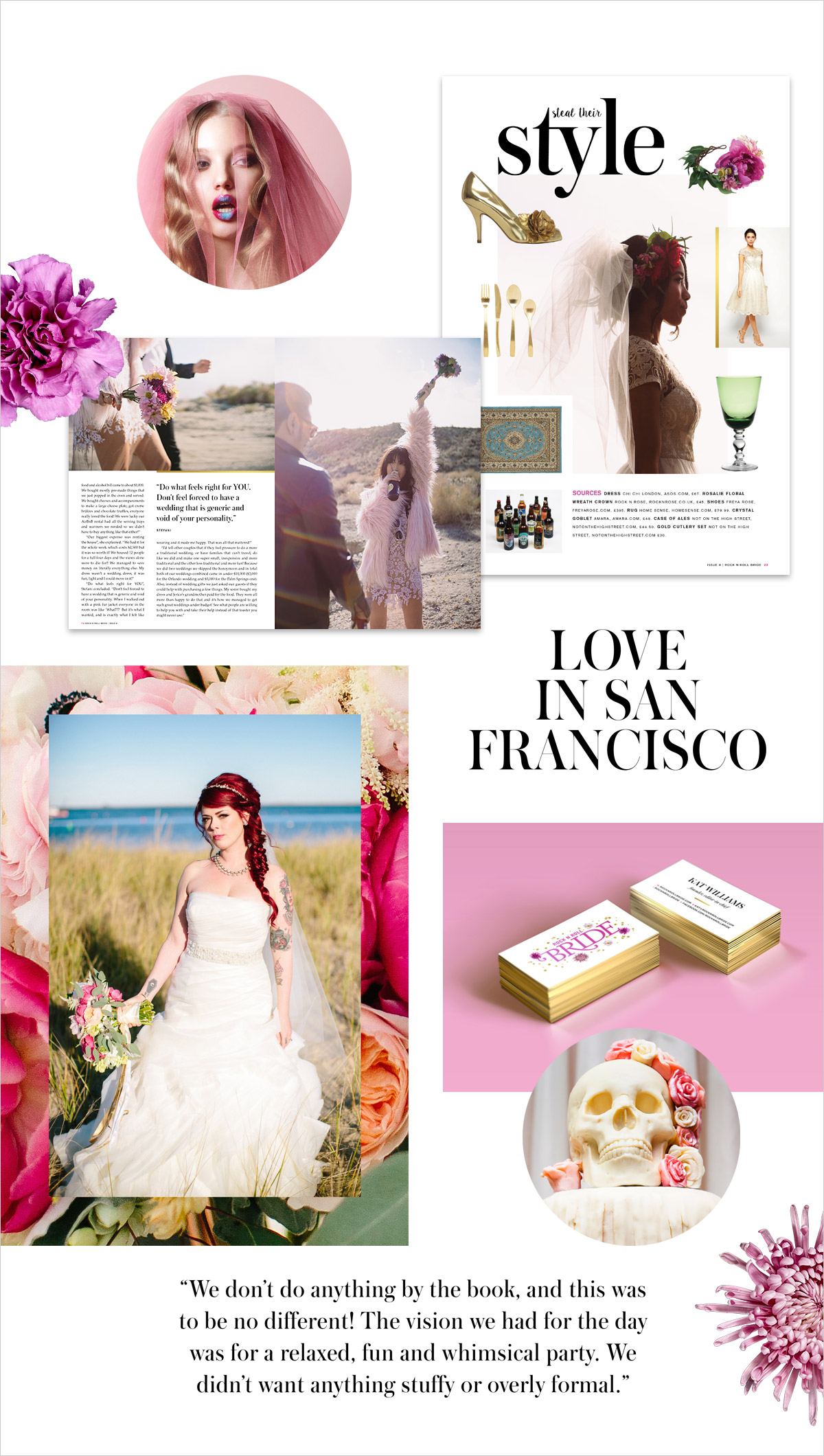 I don't recommend redoing the branding of a magazine while you're in the depths of revamping the 160 pages of content but that's just what we did. In an odd sense, it ended up working out in our favor since the content itself was really inspiring. With each new layout, the branding style began to feel more clear. We agreed that it had to be feminine, fun and have some edge. The trademark of Kat's previous branding had been a pink gradient and flowing swashes so we knew those two elements needed to come into play.
As many of you know, even if you have a clear idea for the direction of the branding, it's never as straightforward as it seems. As we dug into the design, the same old issues kept popping up. Rock n Roll Bride was much too long, no matter which way we stacked and sliced the words.
We tried dozens of variations but they all failed in some way. Then, the solution became clear: while Kat had both a blog and magazine, the branding didn't have to be identical for both. With that lightbulb moment, we got to work creating solutions that made the best use of space for each.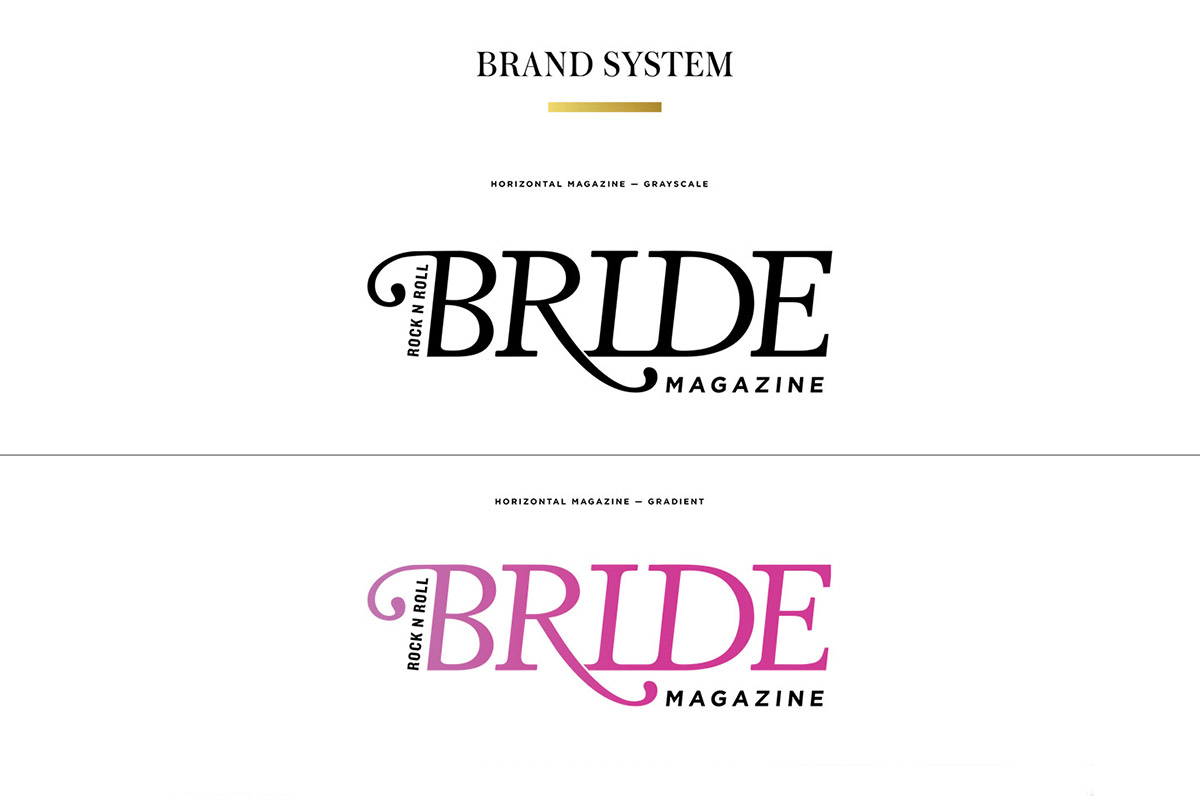 Because the magazine has very limited horizontal space to get the name nice and large, we extended the swash of the "B" of bride and slipped "Rock n Roll" up the side. This allowed us to avoid any stacked elements and wasted space across the top of the magazine.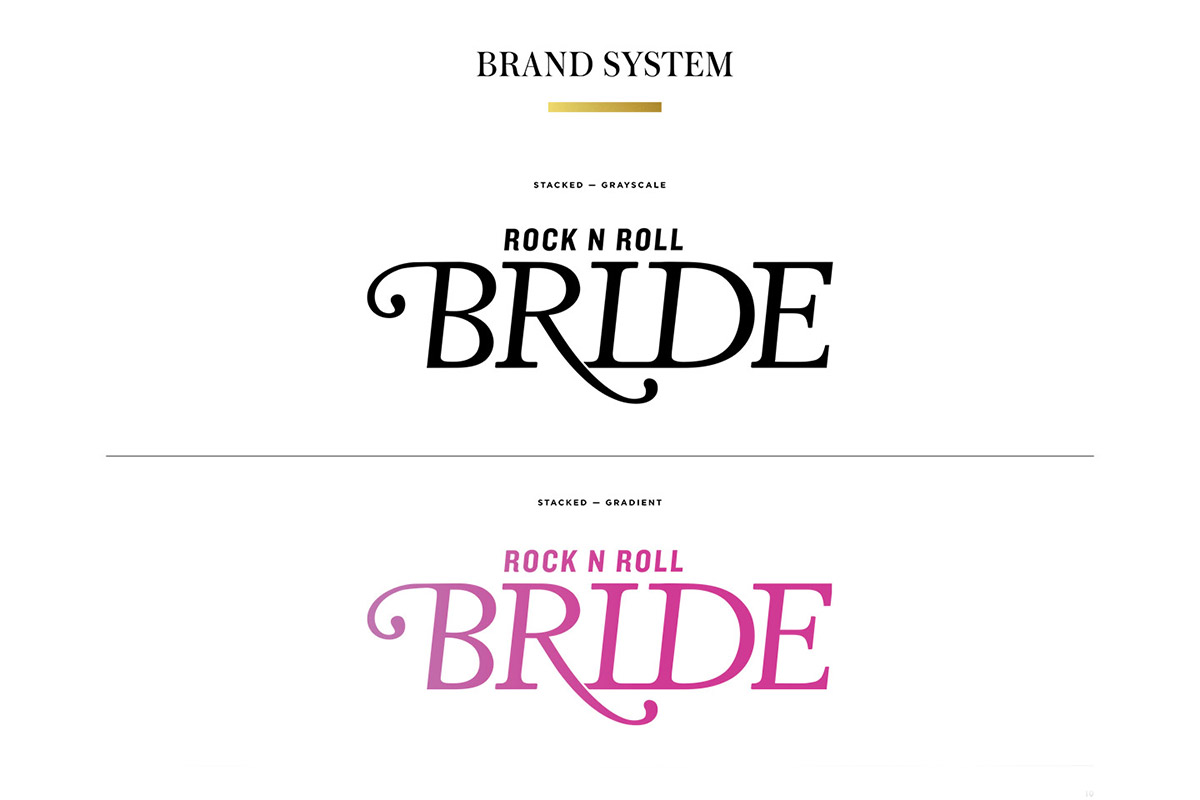 While this solution worked well for the magazine, the small "Rock n Roll" up the side didn't hold up as a blog header, especially with people reading the site on mobile devices. Stacking the brand name here made sense since we didn't have the same space limitations like the print publication.
Finally, if you haven't noticed, Kat is a maximalist all the way. Subtlety is not her strong suit and we love her for it! Once the branding was finished, we designed a special edition of her logo complete with flowers and sequins — it's the fastest way to her heart, along with cats and wine! This digitally bedazzled version is used sparingly overall, making an appearance on her blog header and business cards.
Thanks for reading and have an awesome week! We'll be back on Wednesday to share some sneak peeks into the brand new Rock n Roll Bride Magazine!