Tomorrow, the revamped design of Rock n Roll Bride Magazine hits newsstands and in honor of the big day, we are sharing some sneak peeks with you!
You may be wondering what makes Rock n Roll Bride different from the dozens of other wedding publications out there and the short answer is that the magazine celebrates being yourself on your big day. All the weddings inside are real weddings and the cover girl is an actual bride which is more uncommon than you might think.
For our relaunch, we chose Chie, a beautiful bride who had the most epic wedding in San Francisco shot by Steve Cowell. One thing that's sorely missing in the wedding publishing world is diversity and we want to take a stand and change that. Brides come in all sizes, shapes and colors and that should be celebrated.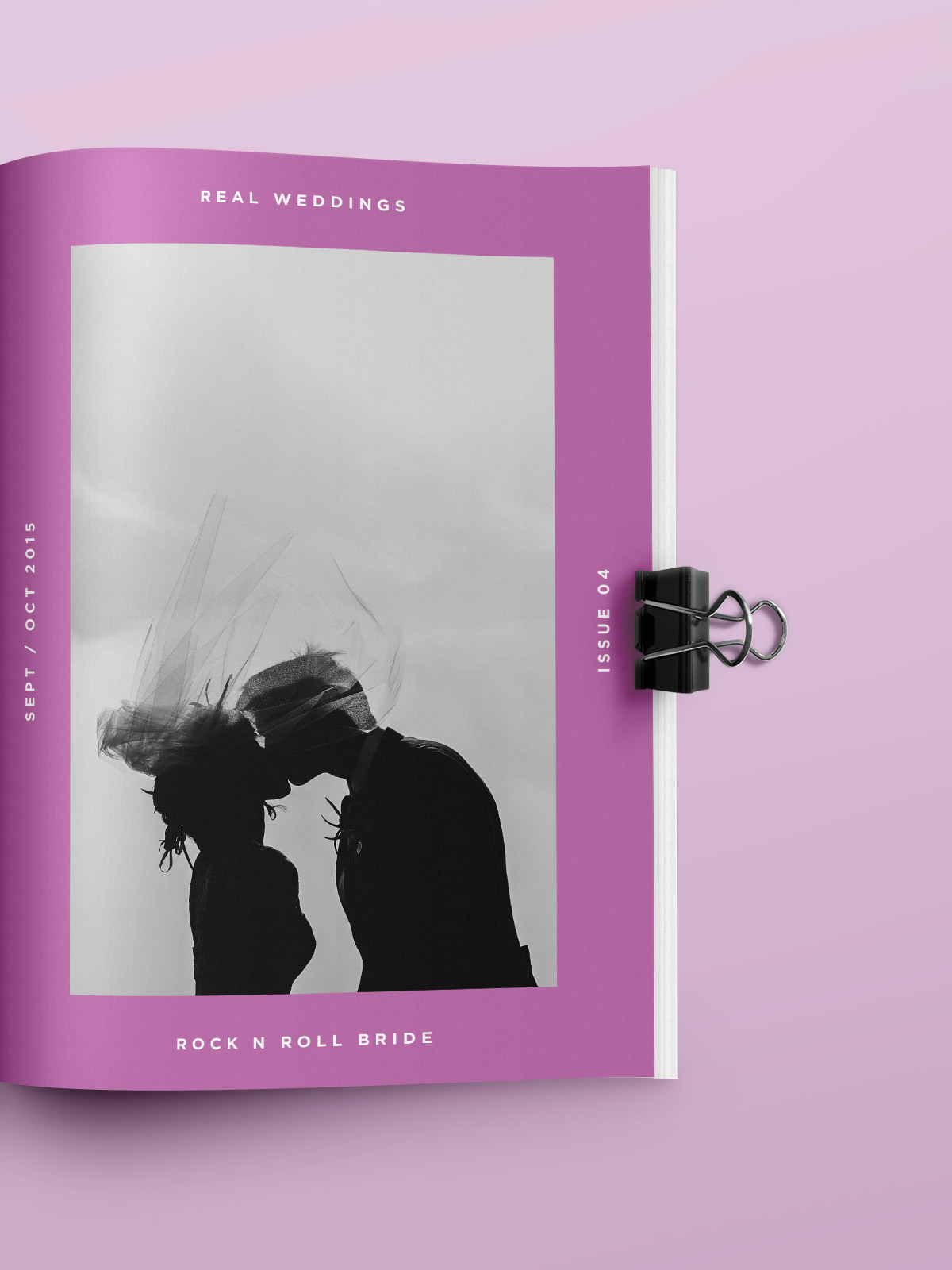 With all the pressure in the media to have a "perfect wedding," Rock n Roll Bride shows the beauty in doing things yourself. The magazine is packed with planning tips, advice and plenty of DIY's to add some major uniqueness to your wedding, not to mention save you a bundle in the process.
All 11 real weddings inside celebrate individuality — there's everything from a unicorn-themed wedding to a wedding held at a train station and decorated with kid's toys. Each has a beautifully written story that shares the couple's inspiration and vision behind their big day.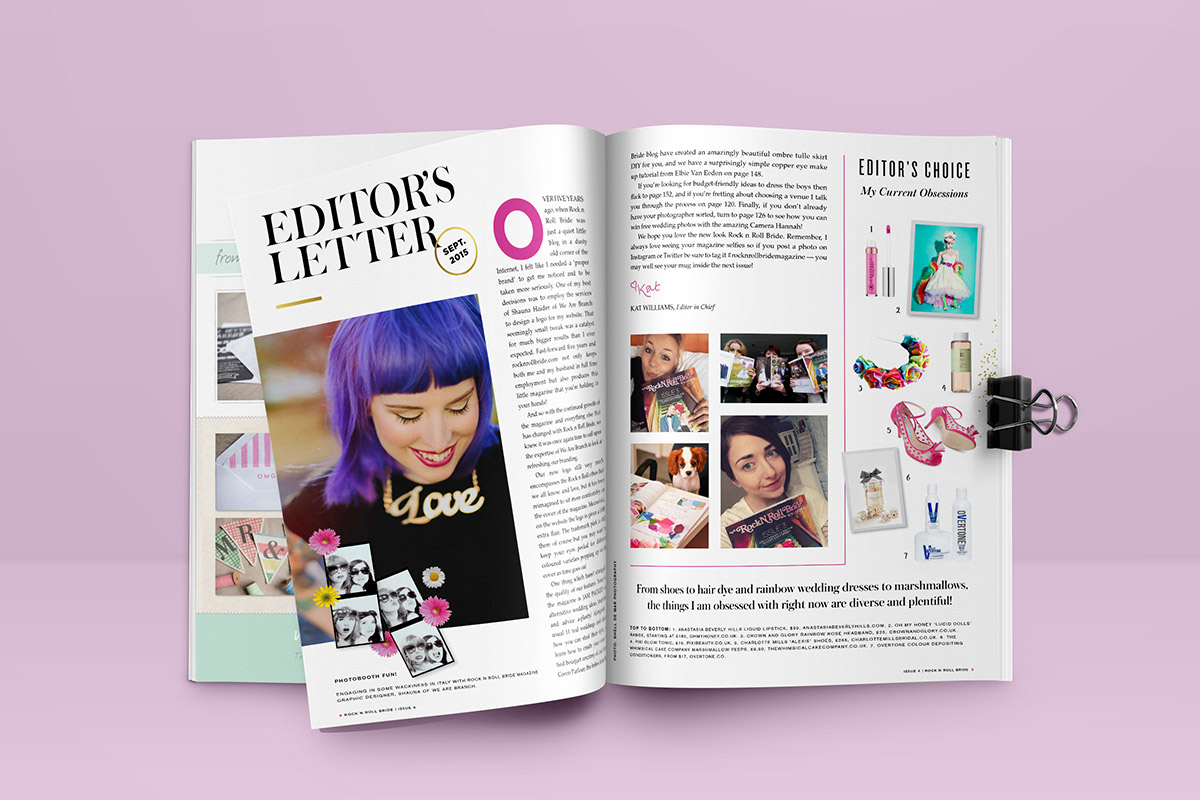 Reworking a 160 page print publication from scratch in less than two months was no easy feat for us to pull off over email (we're in Portland and Rock n Roll Bride is outside of London) but to Kat, nothing is impossible. She gathered the most amazing mix of content, all with an alternative-friendly, do-it-yourself ethos and her passion shows.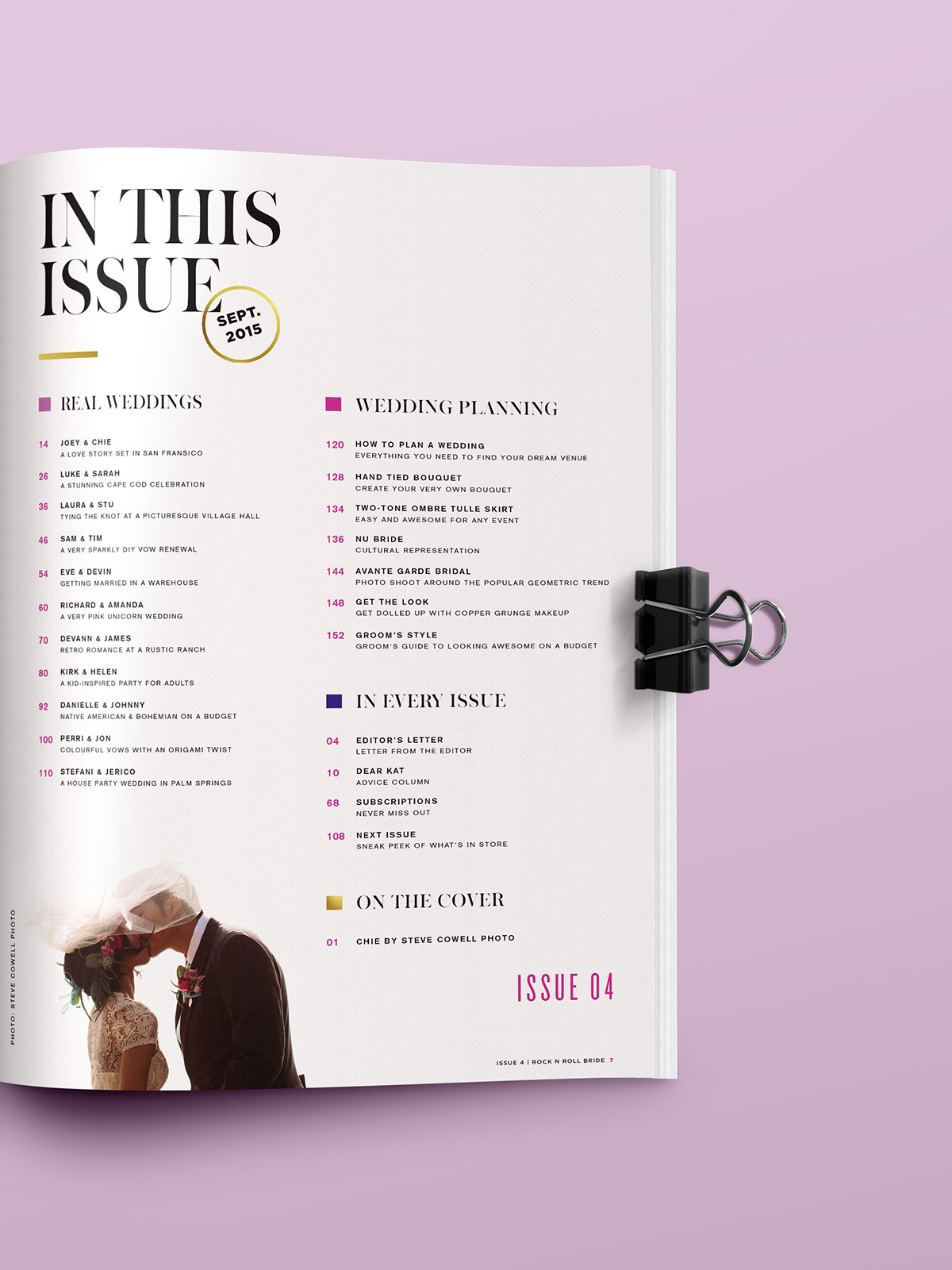 In the redesign, we focused on making the everyday elements special. The basic pages that people usually flip right past got a beauty treatment and we especially had fun with the table of contents. And, there's Chie again!

Some of the other features that deserve a special shout-out include a beautifully written article about the lack of cultural diversity in the wedding industry by Nova of Nu Bride, a real wedding featuring the coolest cake on the planet and a unicorn-theme by Amanda of Honey Pop, easy DIY projects and finally, a Steal Their Style page at the end of each wedding so you can translate the look to your own big day.
If you'd like to pick up a copy of Rock n Roll Bride Magazine, it will be available at grocery stores and newsstands across the UK. If you're in another part of the world, you can order here and have it shipped straight to your door. We can't wait for you to see it in person!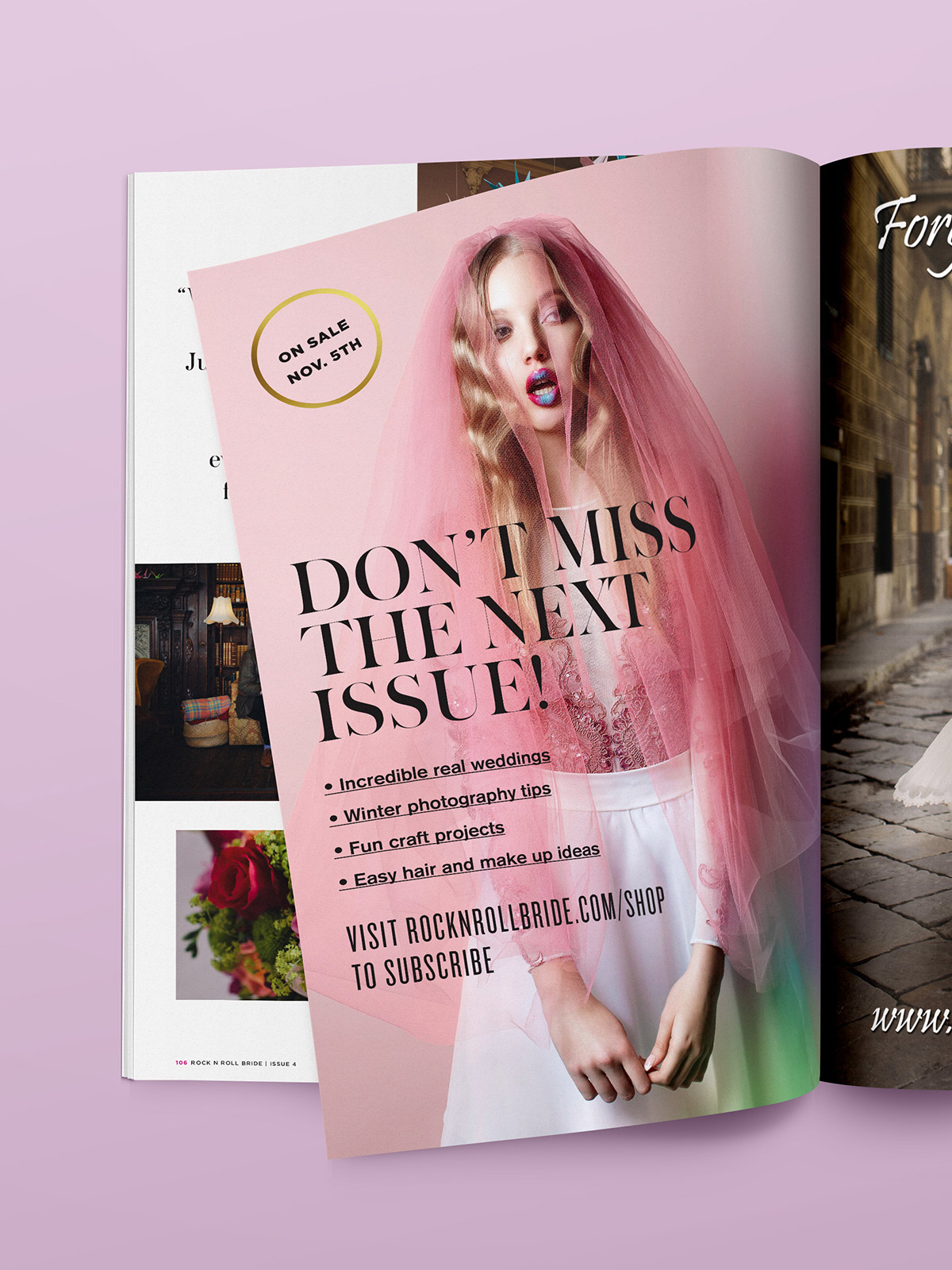 On a final note, if you run a cool independent business and want to get it in front of potential brides, the next issue of Rock n Roll Bride has a few spots left and it would be fantastic to have you included in the mix! If you're interested, email Kat at magazine@rocknrollbride.com and she'll hook you up with a media kit of options and rates.
Special thanks to our awesome designer here at Branch, Samantha for all her hard work and dedication to this project. We couldn't have done it without you! —Shauna