Here's an insider tip: get Goldenrod Pastries on your radar now because this independently-owned, Nebraska-based bakery is about ready to blow up big time.
The grand opening of this female-run business with a focus on catering to vegan, dairy-free, and gluten-free diets happens this month and after snagging a sneak peek of the interior, this is one place you won't want to rush out of on your morning pastry run!
As with many new small businesses, Goldenrod has an especially inspiring backstory. Angela, the mastermind behind the brand had been working full-time in international marketing at a biotechnology company ever since she'd started her baking business and would often bake on the evenings and weekends, blogging about the delicious outcomes.

As these things usually go, it was difficult to balance a full-time job and a dream career but she kept it together. Then, as fate would have it, Angela flew from Nebraska to San Francisco last May to attend the workshop of my other business, The Blogcademy. There must have been something in the water in San Francisco because two other ladies sitting near Angela felt that same entrepreneurial pull and over the next year, Branch branded all three. Sidenote: there are still some spots in the San Fransciso class this September — sign up now; you won't regret it!
We spent the weekend in a packed room together learning about blogging and when Angela heard the words, "You can wake up in the morning and be whoever you want to be" during one of our segments, things clicked. Having a baking business didn't have to be a part-time gig — it was her passion and she had the professional training to back it up, having studied at the French Culinary Institute in New York City.
It was time for this baking business to move out of Angela's kitchen and into a commercial space….but first she needed branding.

Shortly after Angela returned to Nebraska, she got in touch and it was a no-brainer for us to agree to working with her. She had a fashionable flair about her (hey, even her baking clogs are metallic gold!) and a subtle confidence that made it clear that she was definitely cut out for the entrepreneurial route.
When it came to branding, we wanted to reference baking but not in a kitschy, obvious way. The Goldenrod letterforms are always hollow, like cookie cutters. And, that bold flower in that often pops up in the background? It's Goldenrod, the Nebraska state flower and also the bakery's namesake.
While we presented five brand concepts (some of which had a more traditional feel), I felt that Angela was different from the average baker — she had a young, modern, stylish spirit and I wanted her her business to reflect that. The logo took a simple, sans serif turn with a modular feel — Goldenrod is lengthy so we created lockups that could stack, work circles and even diamonds. The color palette hinged on fun colors like goldenrod (of course!), marzipan, bisque and berry but we grounded it with a sturdy navy.

Goldenrod has an unusually large amount of logo variations but there was a method to the madness. From day one, Angela wanted to not only have a website to support her baking business but also a brick and mortar storefront and print collateral to complement it all including rubber stamps, stickers, business cards and promo postcards. Not only that, but she's now hosting events and workshops in the space. With this arsenal of branding, she'll always be prepared.
Whether you need a wedding cake or baked goods for your next event, Goldenrod has you covered. Need ideas of what to order? Check out Angela's deliciously addictive Instagram.
Congrats to Angela on her exciting new venture! -Shauna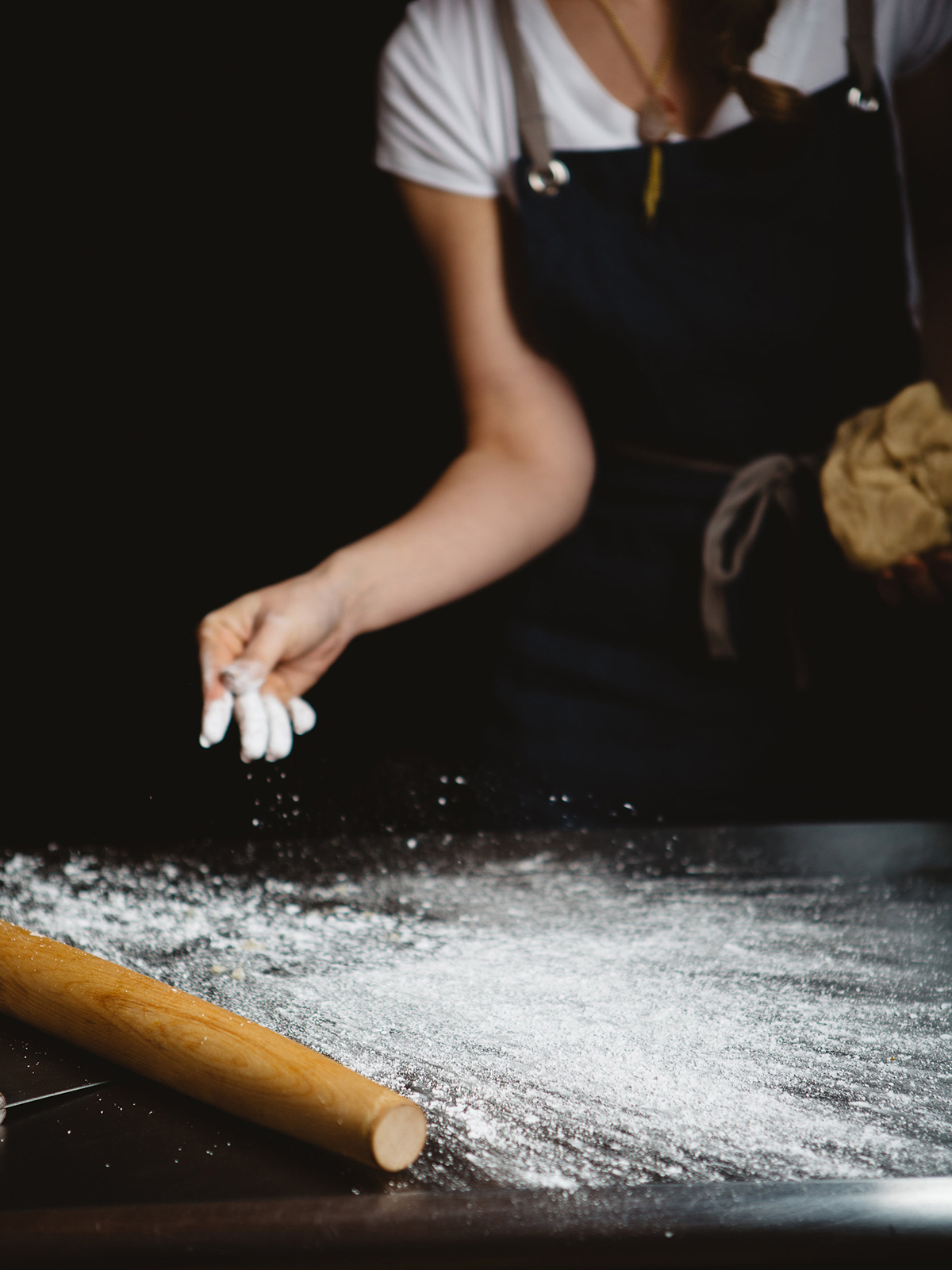 ---
Special thanks to Angela for arranging the beautiful photo shoot! Photography by The Mullers, styling by Lovestruck Social Events and flowers by I Bloom Flowers.