Two years of dreaming and planning.
One big move to Palm Springs.
Three months of building.
A million (rough estimate!) trips to Home Depot.
120 square feet of pure magic.

After months of hard work behind the scenes, the build-out of the new Branch studio space wrapped up in early March. I was excited to finally have the opportunity to share the outcome with you and then, the pandemic took hold. The truth is, I held off for a month because I felt weird about sharing something so big and monumental in my life in the midst of so much despair.
In the last few weeks, after talking with both friends and clients, my mindset began to shift. In challenging times, it's important for us all to bring our inspiration and creativity to the table. Sharing our hopes, dreams and the things that light us up can be an inspiration for others. Don't ever be afraid to share what makes you happy.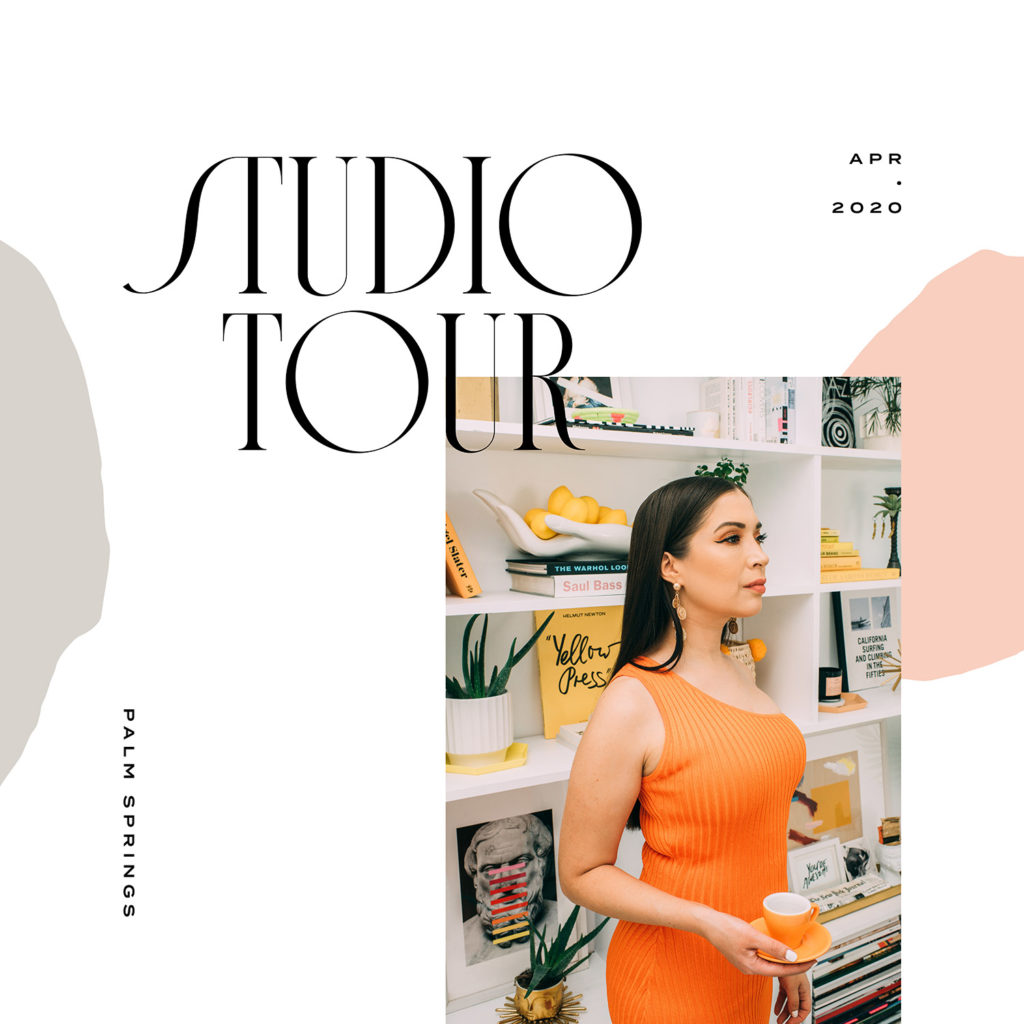 The Backstory
Having a dedicated space of my own had been a dream since I began my graphic design journey in community college back in 2006.
14 years ago, I shared a house with 4 roommates and didn't even own a Mac…which is funny to think about now since I spend a minimum of 10 hours a day on one! I've never been a 5 year plan type — I just knew there were no other options to get to where I wanted to be (running a creative business in a beautiful, dedicated studio space) besides showing up to class on time, doing the work, blogging about that work to gain freelance clients and slowly but surely building a business on my terms.
By the time I launched Branch in 2013, I'd worked at over a dozen design studios and agencies, had a solid freelance clientele and a spare room to work from at home in Portland.
Things were going well…but all the perils of working from home constantly crept up. When I wasn't folding laundry, I was turning on Dr. Phil at 3 pm and getting sidetracked by every little thing that had absolutely nothing to do with work. We've all been there, right?!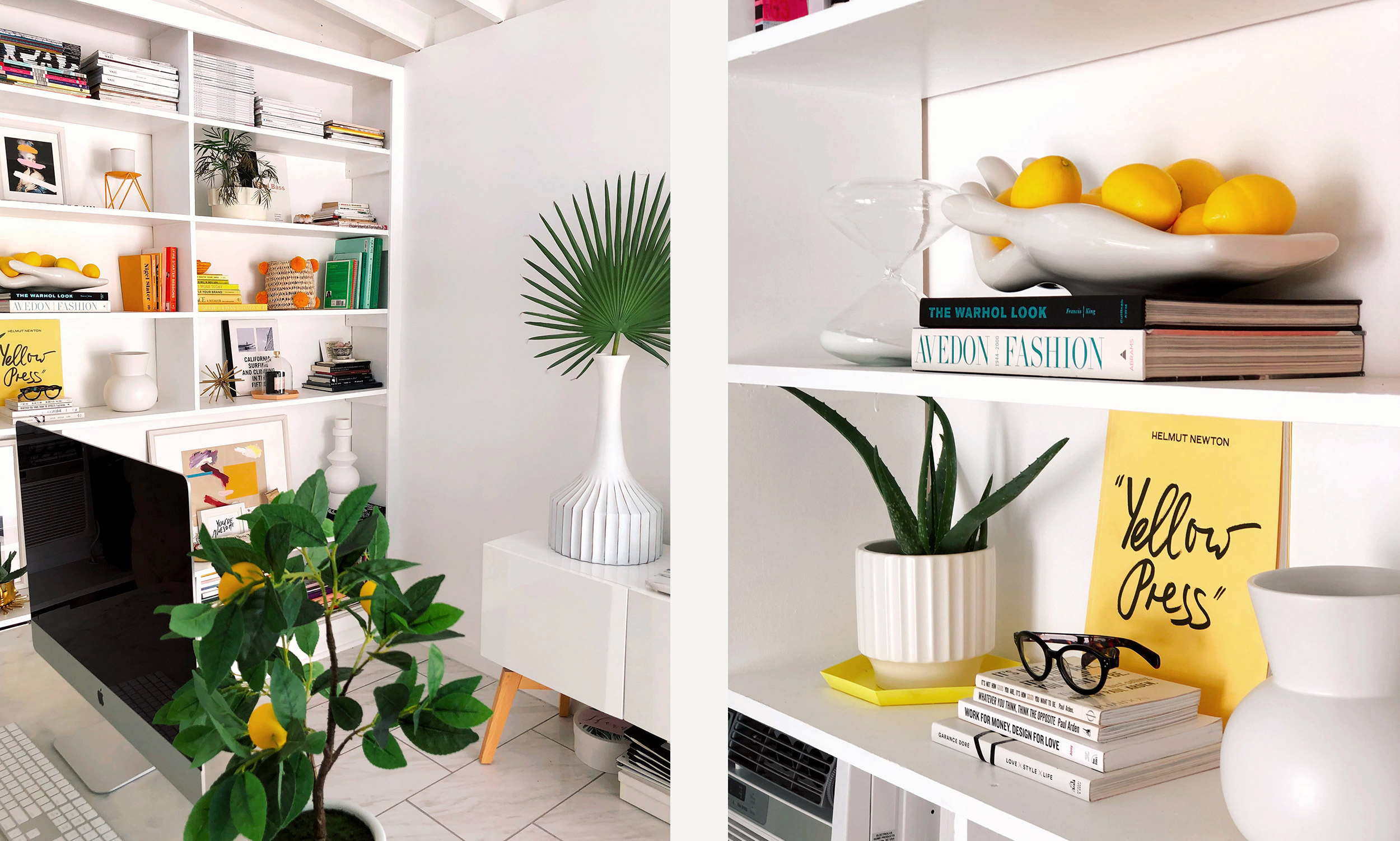 After a year of running my business from home, a creative workspace around the corner had an office open up. I took the leap, moved in as soon as it was ready and my entire business shifted, literally doubling in one year.
Having a dedicated space to run a business from is truly a luxury but if it's a rental, as mine was, there's the nagging feeling that it's never fully your own to do as you please. People can walk in and out of the building at any time. When something goes wrong, you're dependent on someone else to get it fixed. If you want to paint the walls, tile the floor and add a custom flair to anything, there's always the looming dread of asking for permission.
My big, out-there dream was to have a studio of my own complete with floor-to-ceiling bookshelves, extra high ceilings and a ton of natural light. Once I had visualized what I wanted, I got to work on making it real.

[sp_wpcarousel id="8050″]
ABOVE: Photos of the studio build-out. This was a solid two month process from staking out the area on the ground to pouring the concrete foundation to framing, putting up the walls and finally, installing the door and windows.

The Palm Springs Move
Two years ago, my husband and I moved from Portland to Palm Springs. It's a place I'd fallen in love with back in 2012 during a graphic design retreat and I knew it was the place I was meant to live in. When I launched Branch in 2013, Palm Springs was my inspiration source for the citrus-hued theme (the back patio at Norma's is where the color palette transpired!) and visuals you see today.
When we were house hunting, my biggest request was to find a place with enough room in the back yard to build out a studio. The house we chose was a cozy midcentury gem built in 1954 (and a bit of a wreck after being a rental since the 70s!) but I saw immense potential…and just enough room to squeeze in a studio space.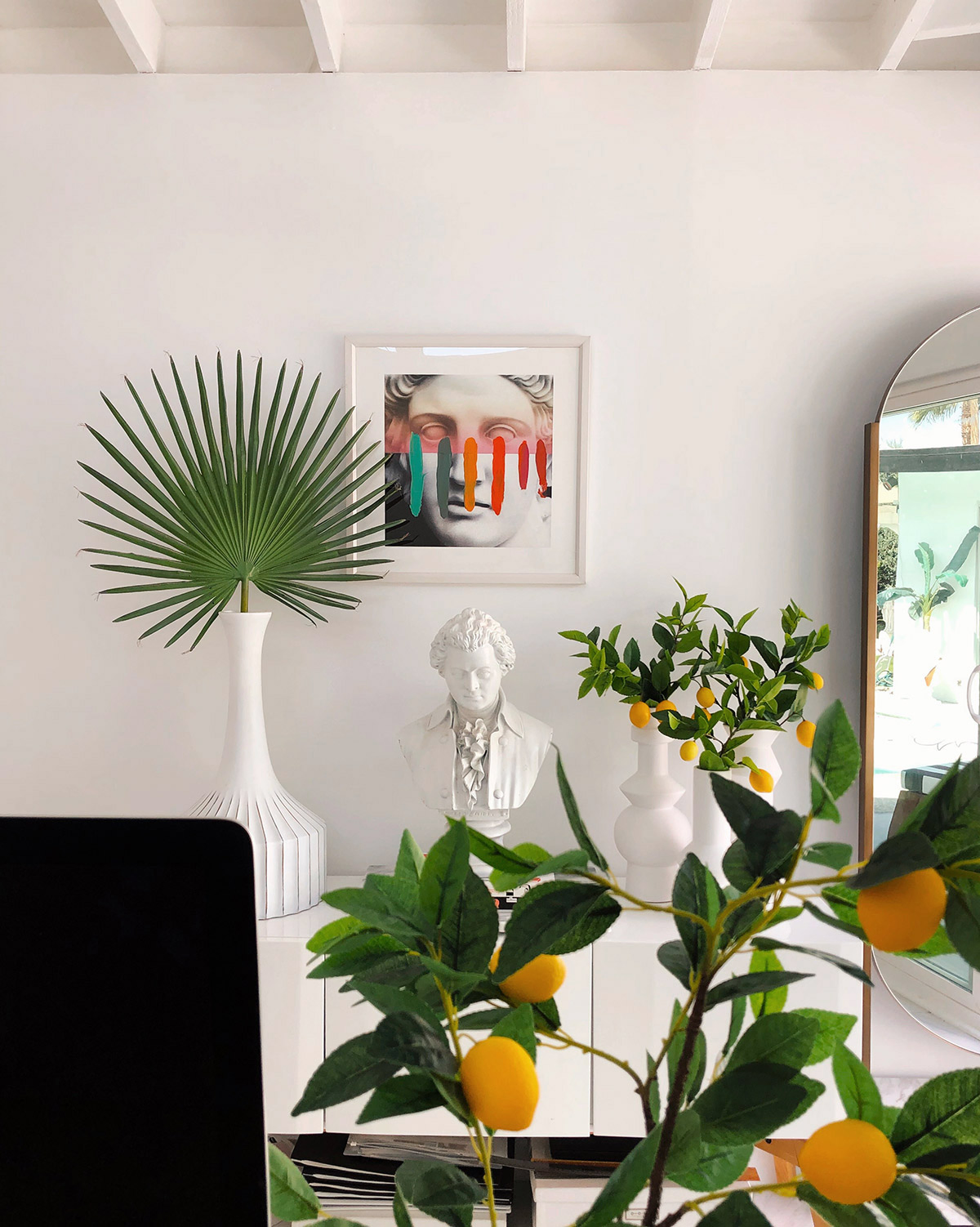 The Build-Out
Last fall, a small piece of grass between the pool and pool house became the ground where my studio took shape. Due to space constraints, we decided on a 120 square foot floor plan. My husband Joey has a knack for construction and as a full-time artist, a great eye for detail. He took on the job of building the space from the ground up, from concrete to framing to electrical to stucco (literally, everything!). His knack for building and sourcing all the materials himself from Home Depot allowed us to keep the budget really reasonable.
Space-wise, 120 square feet isn't a massive footprint — think of it as the equivalent of a large shed or decent sized bathroom. Knowing what I had to work with, I wanted to make the most of it.
A floor to ceiling bookshelf became a necessity for storage. I also wanted extra high ceilings and white walls so the space would feel bright and airy. To save additional wall space, a heater / air conditioner unit was built directly into the bookshelf. I also added a mirror to the wall opposite my desk which reflects even more natural light. Finally, a sliding door basically doubles as a massive, functional window.
Now that the studio is complete, I have the best of both worlds. I feel the jolt of energy and enthusiasm that comes with leaving the house every morning and having a change of surroundings …but those new surroundings are only about 10 steps from the back door!

[sp_wpcarousel id="8108″]
ABOVE: Photos of the completed studio. The full space is 120 square feet so we built in a floor to ceiling bookcase and used white walls, an extra high ceiling and a mirror on the opposite wall to make it feel larger.

In Closing
It took nearly 7 years in business to have a dedicated, custom space I own but the journey it took to get here was 100% worth it. I wouldn't change a thing. This studio is everything I could have envisioned during those early college days and more.
I hope this post inspires you to realize that you don't need a lot of space or a massive budget to create your ideal work sanctuary. Just as the advice of working smarter, not harder applies to your business, the same is true with building — don't make something more complicated than it has to be. You don't need every bell, whistle, and fancy finishing to have a beautiful, productive space.
Keep it simple and stick with clean lines. The less furniture and random objects you have, the airier and more inviting your space will feel.
Thanks so much for joining me on this tour! For even more behind the scenes photos and videos of the studio build, follow Branch on Instagram and check out the PS Studio stories folder. -Shauna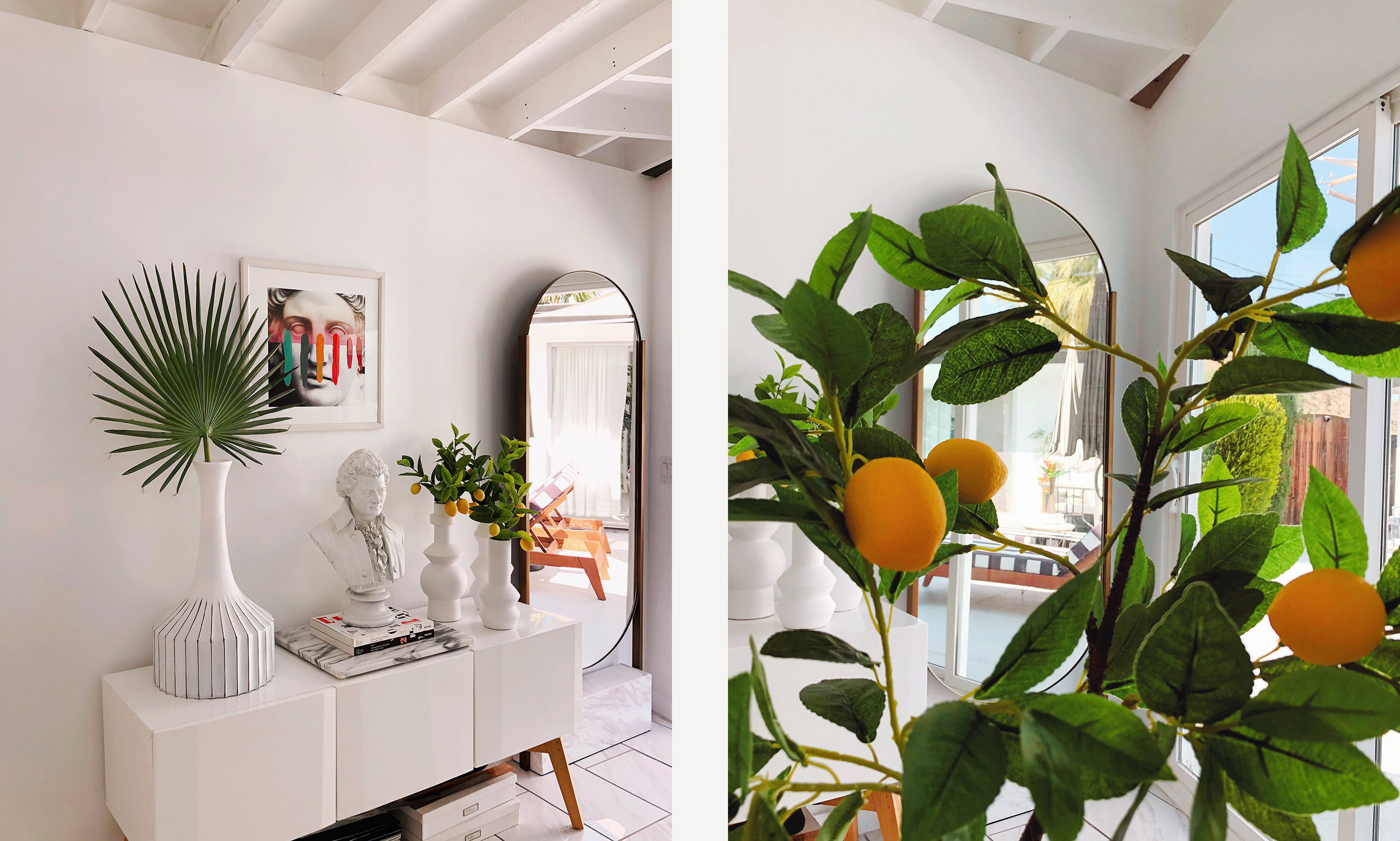 Photography: Top photo by Ashley Marie Myers. All others by Shauna Haider.
Resources: All building materials: Home Depot. Marble desk: CB2. Mirror: CB2. Credenza: CB2. Aeron Chair: Herman Miller. Light: West Elm. Magazine storage on bookshelf: Target Project 62. Faux lemon plant and branches: Target. Faux fiddle leaf plant: Home Goods. Wall art: Chad Wys. Mozart bust: Etsy (vintage). Totem vases on credenza: West Elm. Large vase on credenza: H3K Design. Torso statue and pedestal: Revivals Palm Springs.