Oh, Kitty Cavalier! Meow.
I first met Kitty last summer during the Blogcademy New York class which was hosted inside a Brooklyn loft overflowing with antique furnishings including velvet couches, hand-carved Parisian doors and pastel-hued typewriters. Looking back now, it was all quite fitting.
Kitty and I spoke at length during the branding segment I lead about where she wanted to take her brand and website. When she showed me her current incarnation (at the bottom of this post), it was very black and white. I envisioned her new brand moving towards cream, soft pinks, gold and slate. Within 10 minutes of chatting, there was an immediate connection — we were on the same page.
When Branch launched a few months later, she was one of the first clients to contact us and we immediately got to work on her branding. As we worked through that first round of concepts, a few of the directions felt a little too frilly. Even though Kitty evokes an old world glamour, she does the bulk of her business in a completely modern way online through digital product offerings. My gut told me that we needed to straddle both worlds and that led to this direction we settled on which felt very feminine but still evoked a modern vibe.

Once Kitty's primary branding was done, we created a custom pattern to match which featured skeleton keys with a K for Kitty built in. Kitty specializes in helping women unlock their seductive essence and the keys represent that. As a side note, the assets shown in this post are just a sampling of what's inside in Kitty's brand guide. There are now so many variations and pieces in her branding arsenal that she'll be set for life, no matter the need. 😉

We then moved onto her website. Kitty's old site had been self-designed and running on Wix. Our first order of business was getting her switched over to WordPress. Beyond that, she had A LOT of content that needed to be organized including digital courses, in-person workshops and a sizable library of free assets. In a way, the process of going through everything felt like sifting through a costume closet, discovering layers of beautiful treasures that needed to be dusted off. Branch developer Star then took the reigns, making our design come to life. We pulled an all-nighter Wednesday, plugging the last of the content into Kitty's new site and launched right on time yesterday morning. Teamwork!
When you spend months on end working on a project, it's easy to lose sight of were you started. When Kitty came to Branch, this is what her site and branding looked like: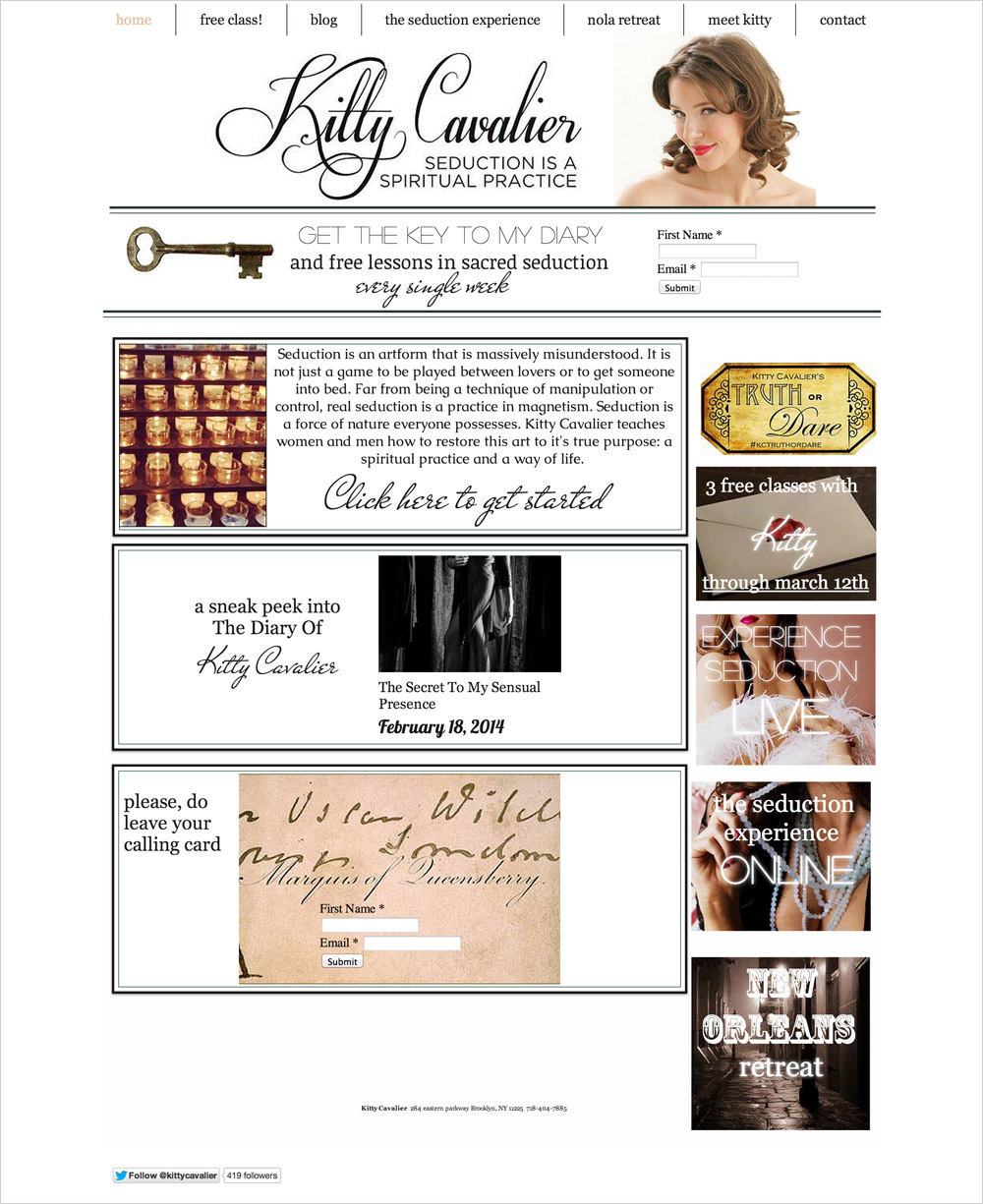 We're so ecstatic with the outcome!
The ultimate cherry on top of this project was receiving a delivery of flowers yesterday afternoon from Kitty in a perfect Branch hue of orange. The best part? Her re-enactment of the conversation she had with the florist: "Just make sure they are orange. I can send you the Pantone swatch for an exact match but they have to be Florida fruit on the tree ORANGE!!!" Haha. It doesn't get much better than that!
Congratulations to Kitty on her new look and special thanks to Burke Heffner for the photos.
And, If you have a branding, web or editorial project of your own you're interested in collaborating with Branch on, drop us a line at hello @ wearebranch.com! -Shauna