Jeneration PR is shaking things up in the PR industry.

This project was nearly a year undertaking in all, starting with the overhaul of its sister brand, Jeneration Academy. While Jeneration Academy was a bit younger and accessible, we wanted Jeneration PR to be more sophisticated and aimed at corporate level clients seeking PR representation.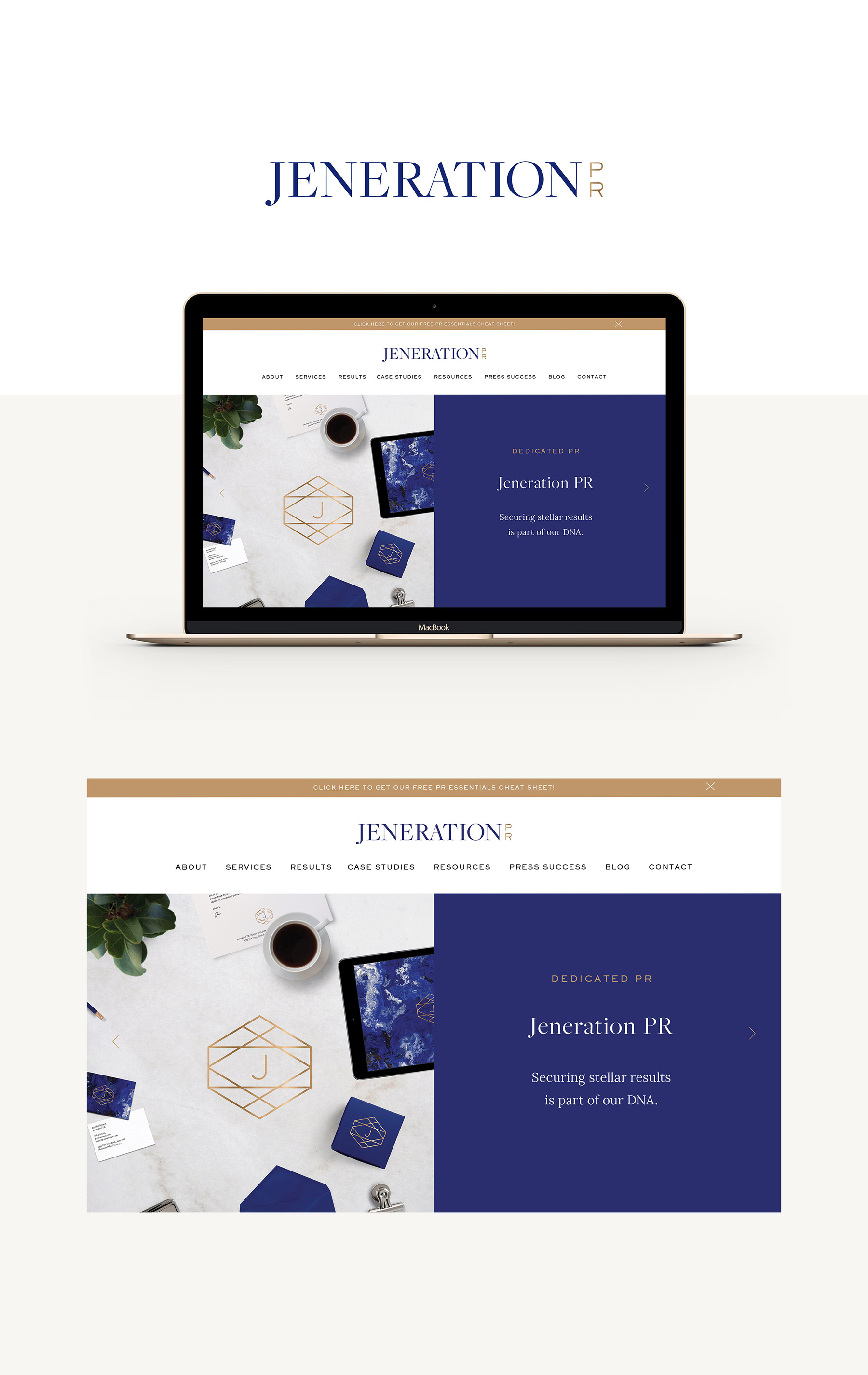 Jeneration PR is a Los Angeles-based boutique public relations and marketing firm with a focus on beauty, baby and lifestyle brands. The firm works 1-on-1 with their clientele providing both the strategic vision and the execution of their projects. Jeneration is perhaps best known for its media placements across the top shows and magazines in the business.
The company's founder, Jennifer Berson was on the hunt for a more upscale look to further differentiate the business from its competition after it recently celebrated its 10 year anniversary.
As we worked through research portion of the branding process, Jen's love of cobalt blue and lapis lazuli textures rose to the top. The more serious, deep cobalt was a perfect contrast to the lighter, beach-inspired palette of Academy. To keep the look from feeling too heavy, we added a dash of metallic copper as an accent for a subtle sheen.
Overall, the look took on a bold, editorial direction and allowed Jen's love of personal style, magazines and decor to shine through in the accompanying mockups and photographs in an effort to draw in on-trend, relevant lifestyle clients.

Jeneration has a clear differentiation from its PR competition, thanks to its specialization in the industry partnered with the upscale, feminine visual aesthetic.
The Jeneration brand moves seamlessly between print (mailing labels, business cards and more) to social (custom Instagram templates and Facebook ads) to web (bespoke WordPress theme designed and coded from scratch) to allow for a truly seamless experience across multiple mediums.

View the live Jeneration site here.
Learn more about our design services by contacting us here.
Services offered:
Branding, Collateral (print and social), Web Design
Supporting cast:
Samantha Sacomano, graphic design
Taylor Eke, web development