John Lennon once sang that "Life is what happens to you while you're busy making other plans" and I couldn't think of a message that more perfectly sums up the year that was 2020.
I've always been a fan of yearly recap posts — to me, it's fascinating getting a peek behind the curtain of what went right and what went wrong without having to experience it first-hand. Right?! So let's talk about 2020 and all of its ups and downs….

1. NEW STUDIO SPACE
2020 started out on a high note as I woke up on my best friend's couch in LA on New Year's Day and headed home to begin moving into the new studio space. It had taken 3 months from beginning to end to build from scratch in my back yard in Palm Springs. My husband Joey had painstakingly planned it out, mixed and poured the concrete and built every last detail himself from the walls to the roof to the built-in bookshelves. As I began excitedly unpacking dust-covered boxes from our Portland move a year-and-a-half before and placing books on the shelves, a stool slipped out from under me and I fell HARD. Luckily, I didn't have any broken bones but was bruised up pretty badly. It should have been interpreted as an omen of what was to come. Ha!
2. THE MASTERMIND
Well before I had any idea of what 2020 would have in store, I took a massive leap of faith the previous August and invested in MirrorBrand Mastery, a new mastermind led by Sarah of Public Persona. I'd never invested so much in myself but I felt a creative and business plateau setting in and knew it was time to switch things up. Design had always been the cornerstone of the Branch services but I was equally passionate about brand strategy and I wanted to go much deeper to offer our clients a fresh perspective on what was possible for both themselves and their businesses (Sarah used her brand strategy process as the framework for the mastermind).
Seven months in, COVID hit and I was beyond thankful to have the support I did from the other women while everything felt like it was shifting on a near-daily basis. Being able to express my fear and reservations around what was happening while getting feedback on how to continue leveling up on the spot kept my mindset and focus strong. I credit that support with the studio holding steady and making its numbers this year.
3. INTRODUCING BRAND STRATEGY
Before 2020, our project process began with a brief questionnaire and then we dove straight into design. The biggest shift was adding a dedicated deep-diving brand strategy service to the front end of our process that helps our clients get crystal clear on their future selves + businesses BEFORE we dive into design. The amount of focus and clarity that came through every time we completed the process with a client was so rewarding. They've come out on the other side not only having a beautiful new brand and website but also the unique-to-them brand strategy to affirm that what they're wanting to achieve moving forward is possible.
4. THE MASTERCLASS
For years, I've had my head down refining our studio processes and design style to give our clients the most value possible. Once I felt that was solidified this year, I began moving into a more teaching-focused role. The first step was partnering with The Female Hustlers to launch a masterclass on how to get the most out of Instagram. I wanted it to be real, applicable and immediately implementable. I bypassed anything too slick, writing the full outline and recording it here in the studio with a webcam. I'm definitely a more 'behind the scenes' type of person so this was a big personal leap….but I know that it's time to step out from my comfort zone and share this knowledge with fellow designers.
5. REFINING OFFERINGS + PROCESSES
The Spring and Summer were focused on keeping income steady and not rocking the boat too drastically with the realization that the pandemic wasn't ending any time soon. We completed dozens upon dozens of projects, often too busy to take the time away to share the process. As late Fall crept up and I finished beta-testing the new strategy offering, I sat down and redid our services guide from beginning to end, cutting packages down to 3 stackable offerings (1. Brand Strategy, 2. Brand Platform and 3. Web Design) and refining our processes including switching over to Dubsado for processing contracts and invoices. It was a lot of work upfront but having less packages and a more automated onboarding process has been a game changer.
6. EMBRACING PERSONAL DEVELOPMENT
With less opportunities to travel and visit friends, I knew things could easily slide off-track if I didn't have some sense of focus and structure. I jumped onto the personal development train, joining Tony Robbins' first-ever UPW Virtual seminar with 20,000+ others on Zoom and jumped up and down, yelled and cried for 4 days straight. And yes, I broke the board! That led to his Business Mastery seminar later that summer followed by a few more creative courses. In between then, I listened to a lot of audiobooks, podcasts (and added some more crystals to my collection for good measure, LOL). It was an intense, uncomfortable journey at times but I ended the year much, much stronger and more energized than where I started.
7. GROWING THE TEAM
This was the biggest leap of the year within the business. I interviewed two new people a few days before 2020 wrapped with the hopes of bringing on more help and expertise behind the scenes as I continue moving into the teaching role throughout 2021. My course, the inkling of an idea I had 7 years ago as I started this studio is now in-progress and I'll share much more as it takes shape.
8. REDISCOVERING THE ARTIST INSIDE
This realization had a lot to do with the mindset work I'd dove into which led to remembering stories from my past. From the time I was 4 years old, I'd wanted to be an artist and walked around proudly showing off my doodles while wearing a beret. By 7, I'd won the art award in my grade school and knew it was my calling. Degrees in business and graphic design combined to make the art path more reliable and feasible but over time, it dimmed. This was the year I rediscovered a childhood photo complete with the beret while visiting my dad's house and on a friend's suggestion, I ordered a stack of them in many colors for a photoshoot in DC. Reconnecting with that childhood dream on-set and pulling out the berets and art supplies for my new photos helped reignite my passion for creative expression. It has made every branding project we've booked in since a much more aligned experience.
9. REFRAMING NEGATIVES AS POSITIVES
Of course, not every project went as planned or was a perfect fit. Not every client was willing to step into the bigger, brighter future version of their brand we presented. And I completely get it — when it feels like the world is crumbling around you and fear is in the air, it can be incredibly tempting to play it safe. But…that's never the answer. Playing it safe breeds mediocrity and you weren't born to blend in. The more the studio stepped into sharing bolder, edgier work, the more right-fit clients showed up to partner with us. Now more than ever, fully owning and sharing what makes you and your business unique is what's going to help you stand out from your competition as the only choice.
10. LOOKING FORWARD
Here's what's' in store for 2021:
• More sharing: The stockpile of projects we completed in 2020 will start rolling out in case studies Mid-January.
• More teaching: The Instagram Masterclass I recorded launches in February.
• More applicable content: As I step into the teaching role, I'll start sharing more stories and techniques so you can grow your creative business.
• More consistency: While 2020 felt like a never-ending rollercoaster with zero routine, my goal is to share more regular content with you on here, the newsletter and Instagram.
• More transparency: As I dive further into the Branching Out course creation, I'll share more of that process with you.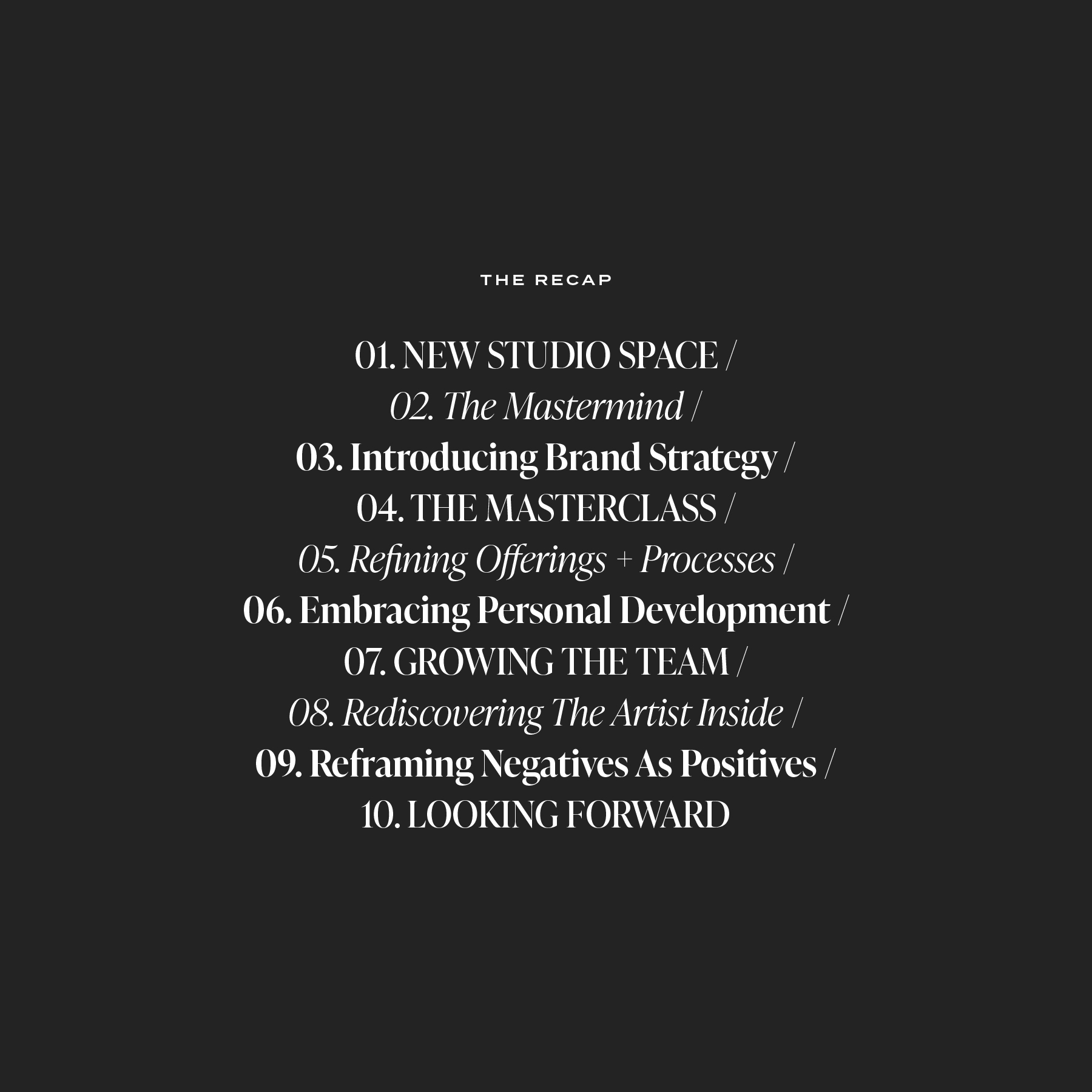 Thanks for joining me on this look back at 2020. It was anything but expected but we survived and are stronger because of it. Here's to a bright, prosperous year ahead for you, your family and business. Wishing you all the best on your continued creative journey! -Shauna
Top Photo: Madeline Northway