September always feels like the ideal month for fresh starts. Even though I've been out of college for over a decade at this point, I still associate this time of year with getting back into the swing of routines after taking it a bit easier over the summer.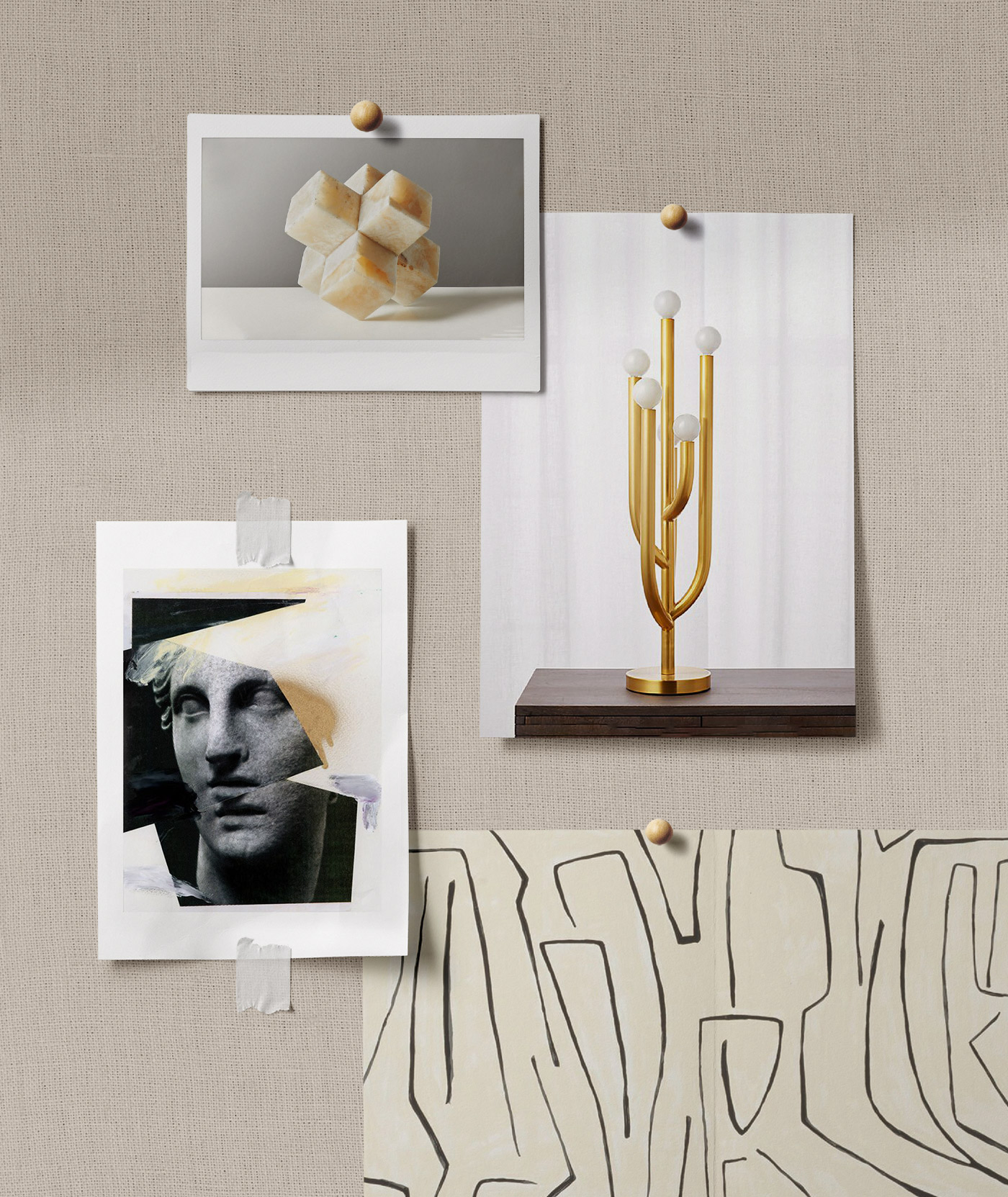 For better or worse, 2020 hasn't followed any semblance of normalcy (understatement of the century!) but I still hold onto those memories of fresh starts and new beginnings since September is the month that Branch was founded 7 years ago and also my birthday.
After moving into this space at the beginning of the year (the original post is here with build-out photos if you didn't catch it!) I quickly unpacked all the art, supplies and mementos that had been hauled down from the original Portland studio when we made our big move to Palm Springs in September 2018.
Boxes upon boxes of items had been sitting in the garage collecting dust for over a year while I worked from the back room of our 1950s mid-century modern house and my husband built the new studio in our back yard. I'd honestly forgotten about a lot of it and it's true that when you move into a new space, it can really shift your energy and perspective. Sometimes all the old things you treasured just feel a bit off in scale, color and theme.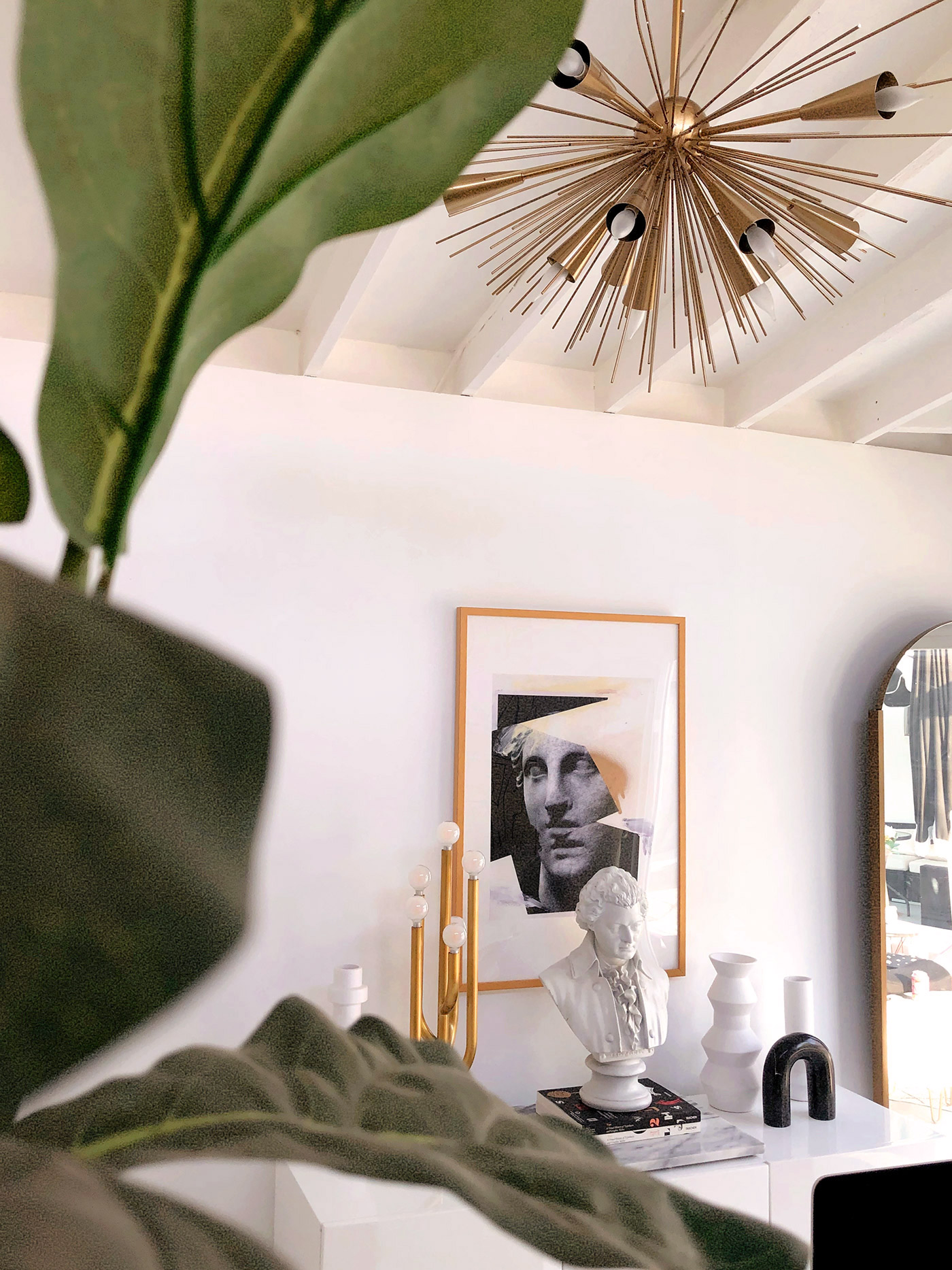 As I finally settled into the newly constructed studio in early 2020, the pandemic hit and I went from the occasional call on Zoom to sometimes spending half of my workday on it, communicating with our clients around the world. The more time I spent virtually face-to-face with our clients, the more I felt the white so-called 'Zoom wall' behind my desk was lacking contrast and creative energy.
All white walls always felt fresh to me but suddenly, there wasn't that jolt of energy I was desperately wanting as I spent more time in the space and less time traveling and meeting clients in the outside world. It was time to commit to something that fit within a specific aesthetic: bold, high-contrast, modern yet organic, artistic but not too perfect or computer-generated.
I'd been eyeing the 'Graffito' pattern by Kelly Wearstler for quite awhile and after googling some photos of it in rooms to get a better idea of the scale (the pattern is very oversized which gives it major impact), it fit the bill to a tee.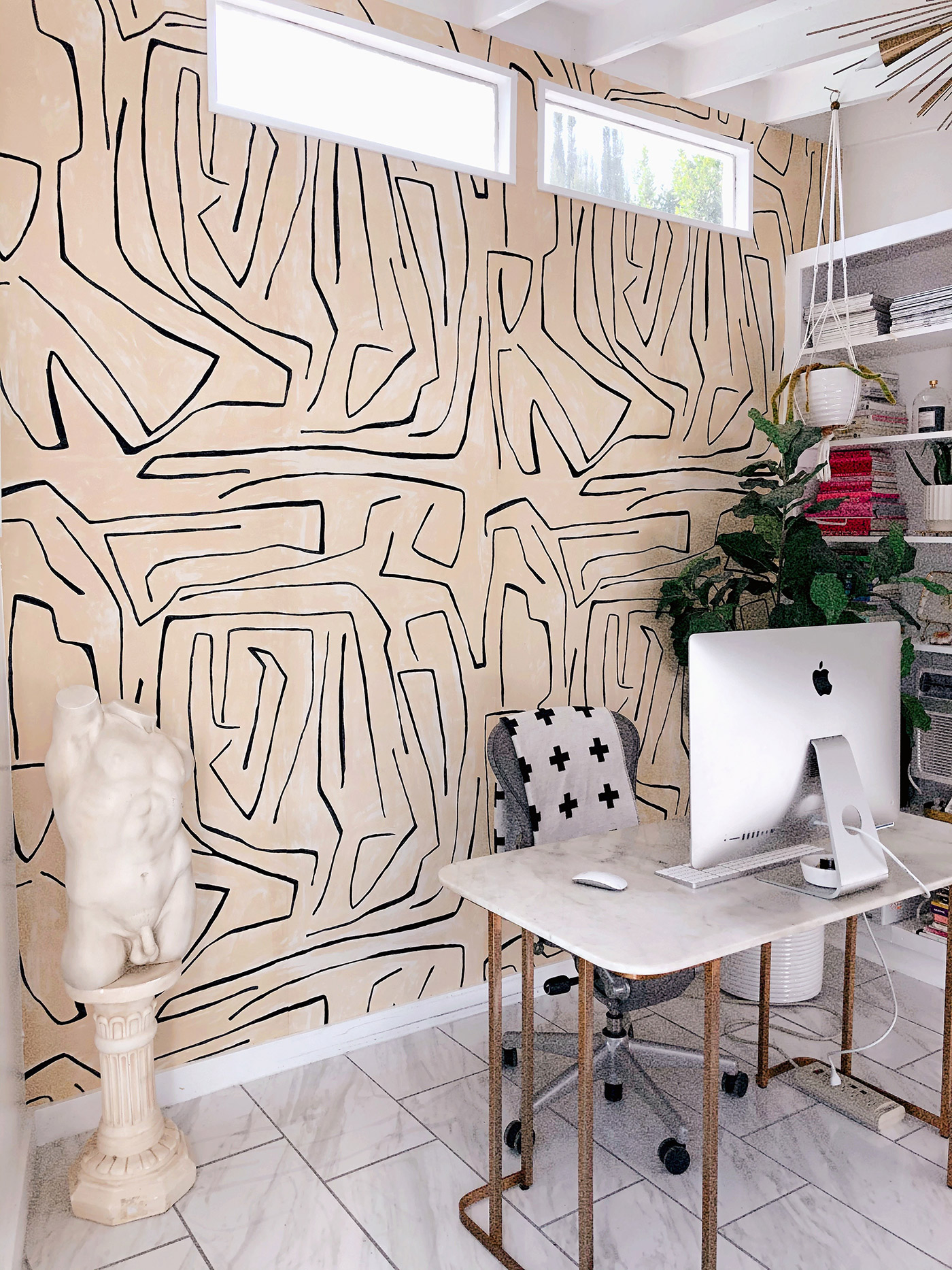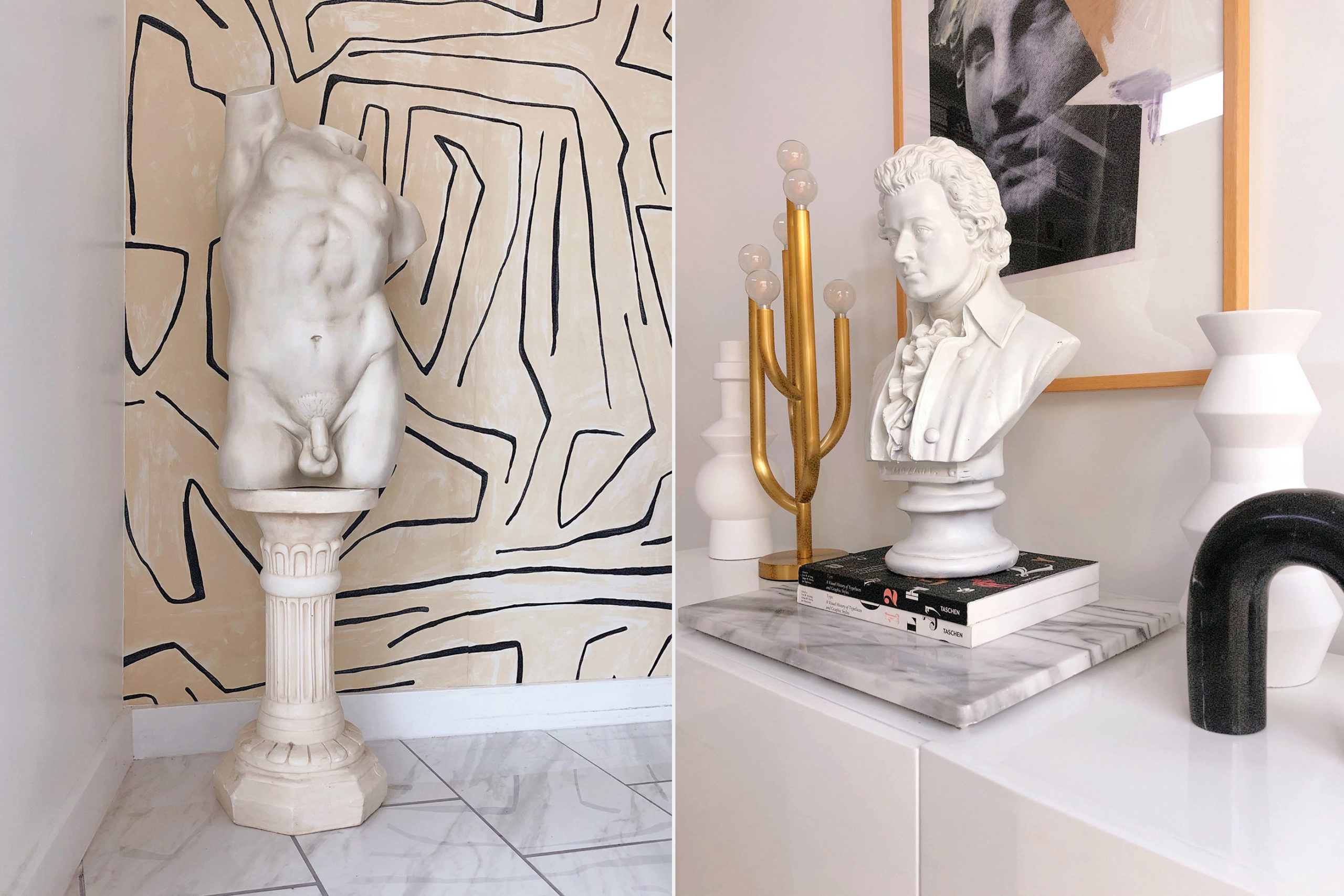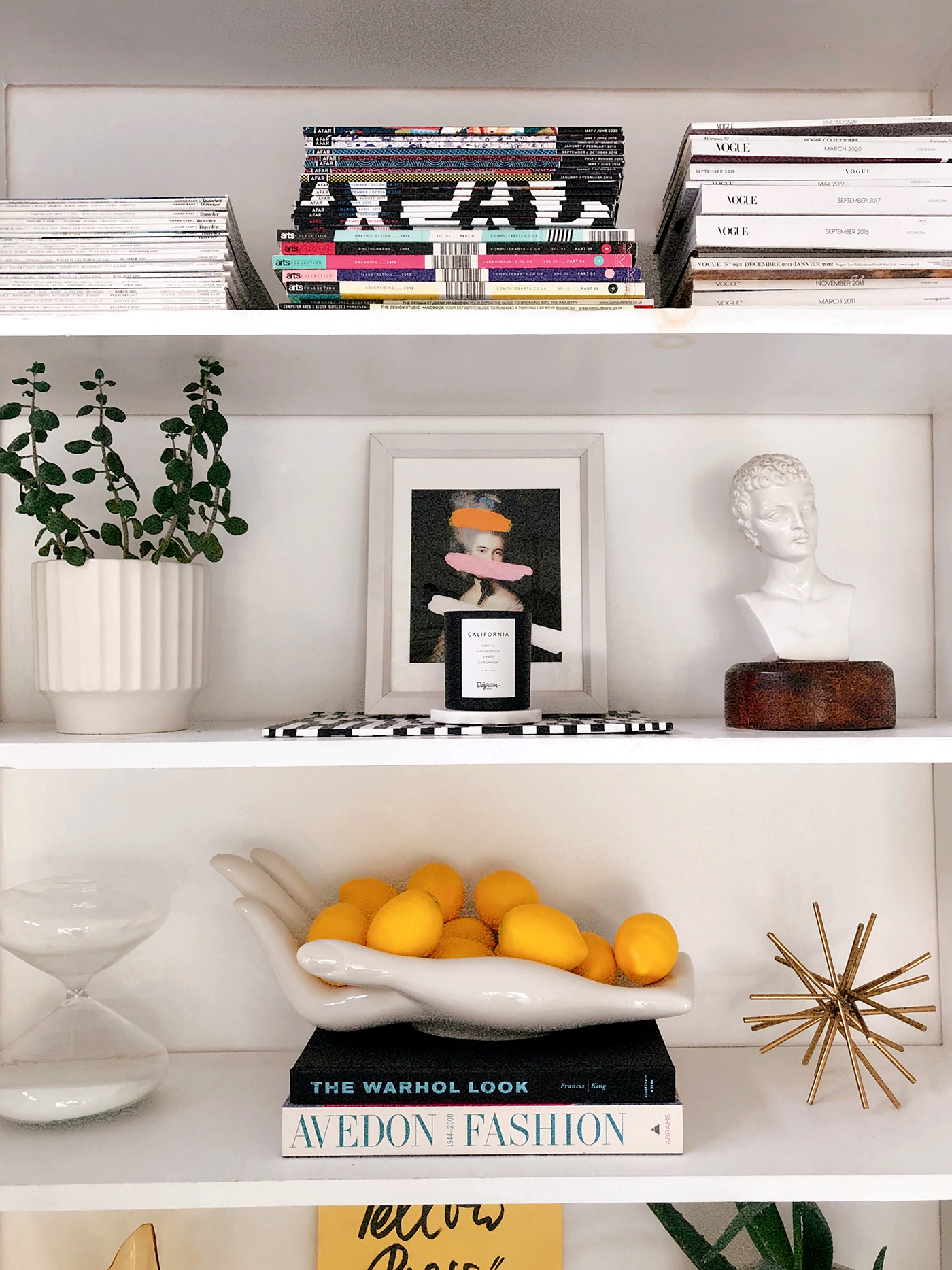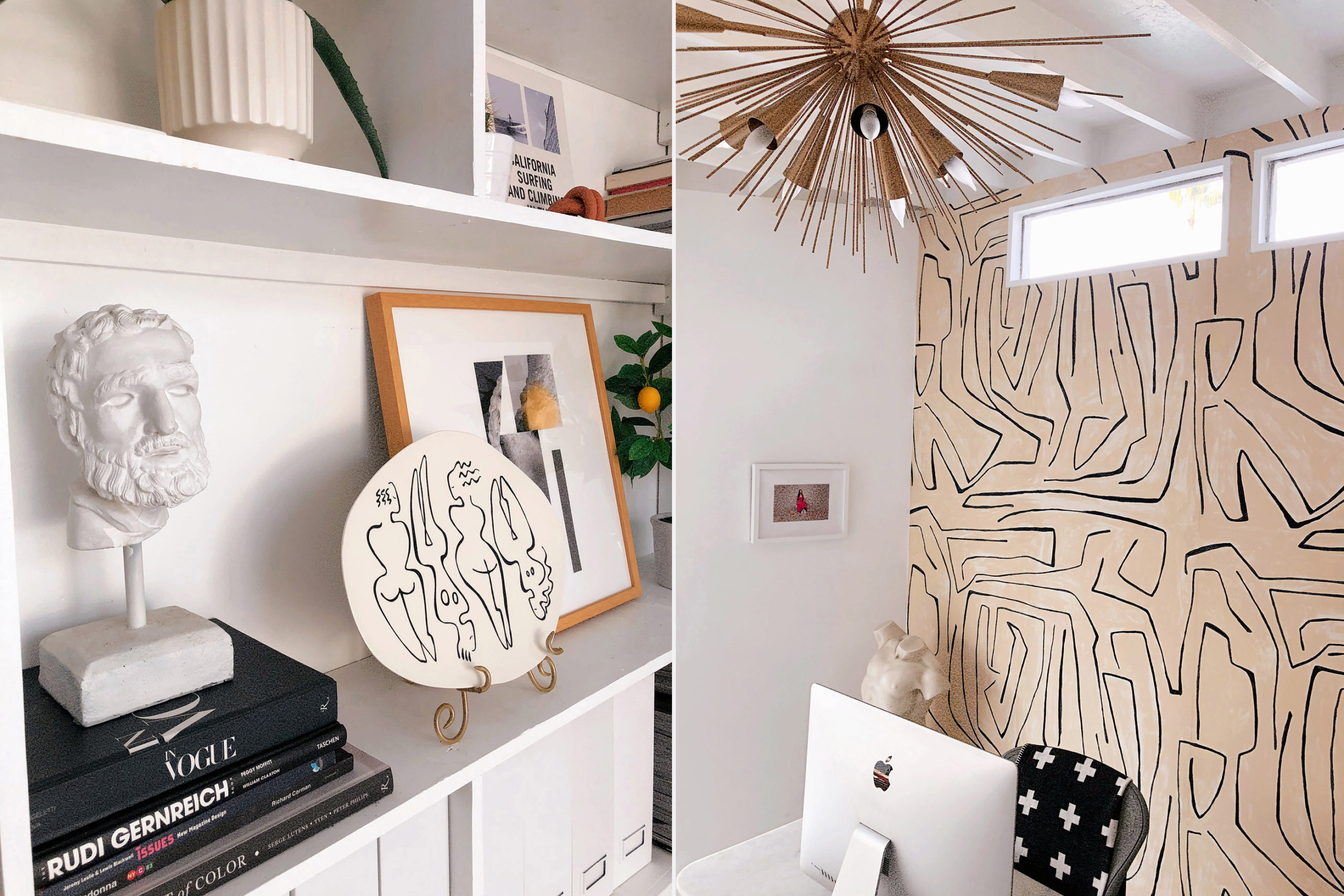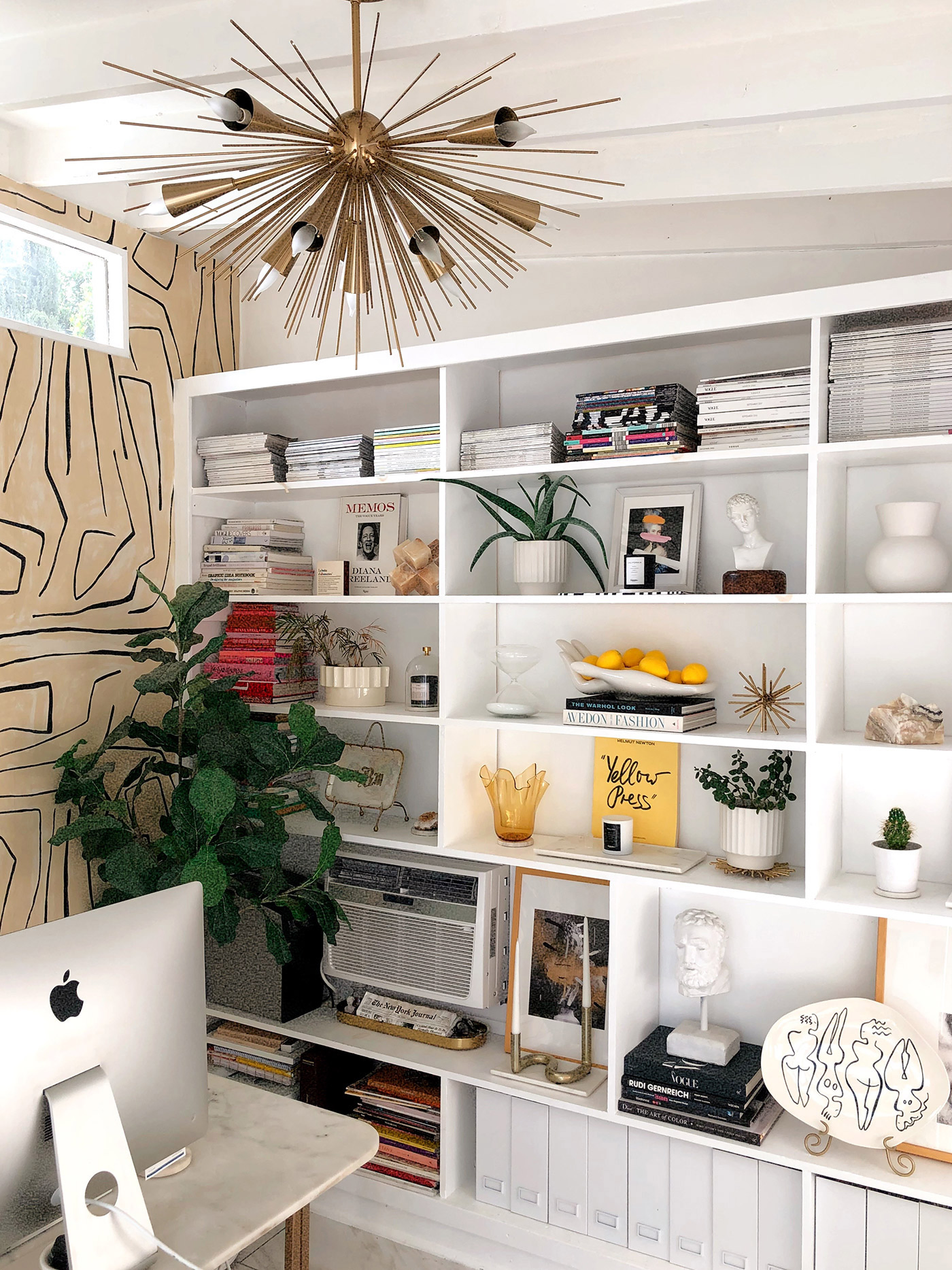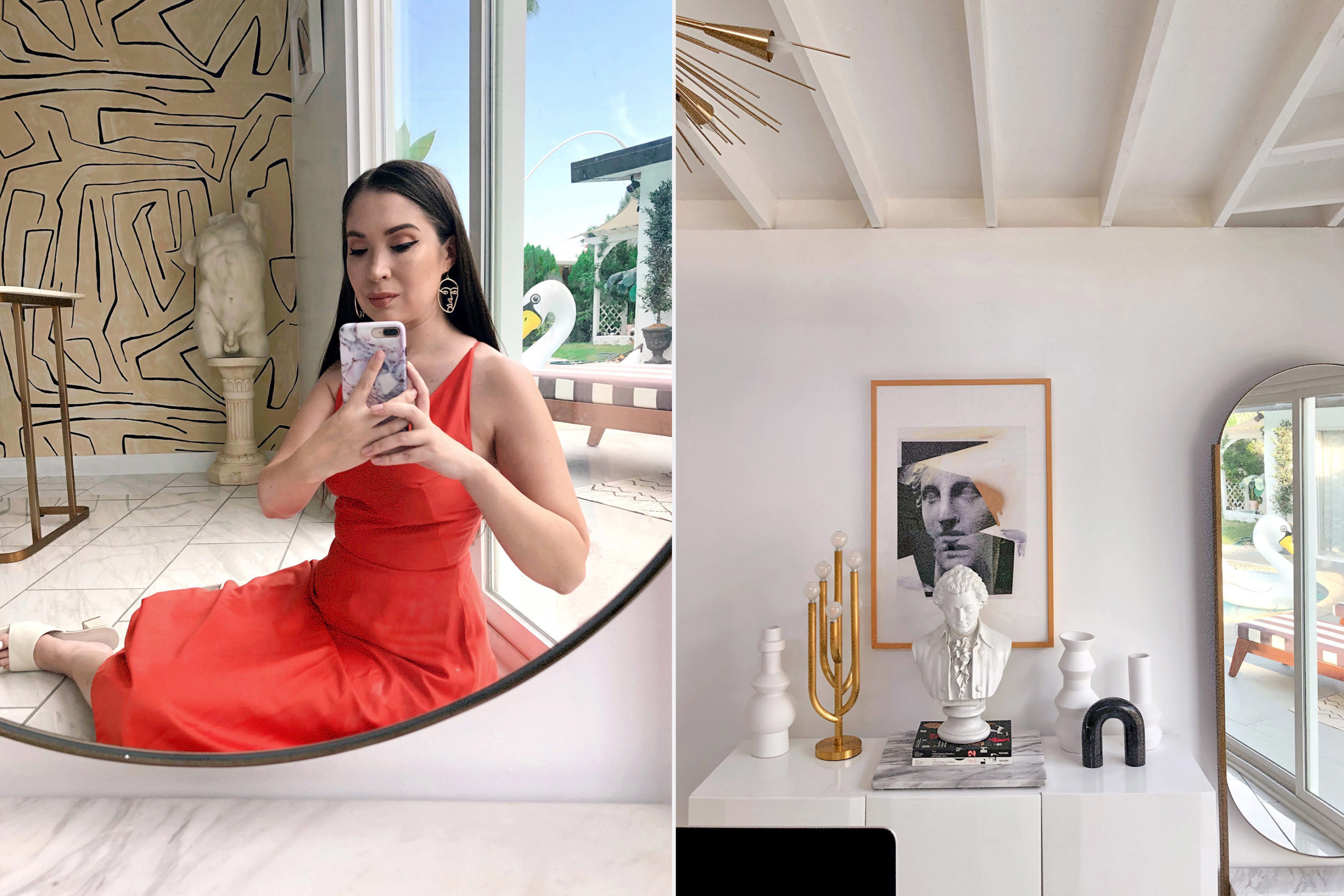 After installing the wallpaper, I got the fresh energy I'd been seeking…but the original bold, bright art in white frames felt unaligned to the warmer, more natural feel taking foot within the studio. I went all in, ordering a trio of art prints by Chad Wys (we've had his art in all versions of the studio and I love his classical meets modern style), a warm brass cactus lamp as an ode to my new-ish desert surroundings and some decorative objects made of marble and ceramic for a more grounded, organic touch.
With those collective shifts, this space finally feels like it reflects the direction we've been moving in with our custom projects, striking the balance between unique yet sleek and elevated yet approachable. To me, the best design has always been all about diving into the contrast of old and new elements, mixing eras, textures and themes to create an outcome that feels extra personalized to the client.
With this space, I took the same approach — thinking about what I loved and how the different eras could work together, all through pulling it together with a very defined color palette. Though this space is only 120 square feet total, keeping the palette fairly neutral makes it feel larger than it is thanks also in part to minimal furniture, the remaining 2 white walls and a floor-to-ceiling bookcase.
Thanks for taking the time to join me on this updated tour! -Shauna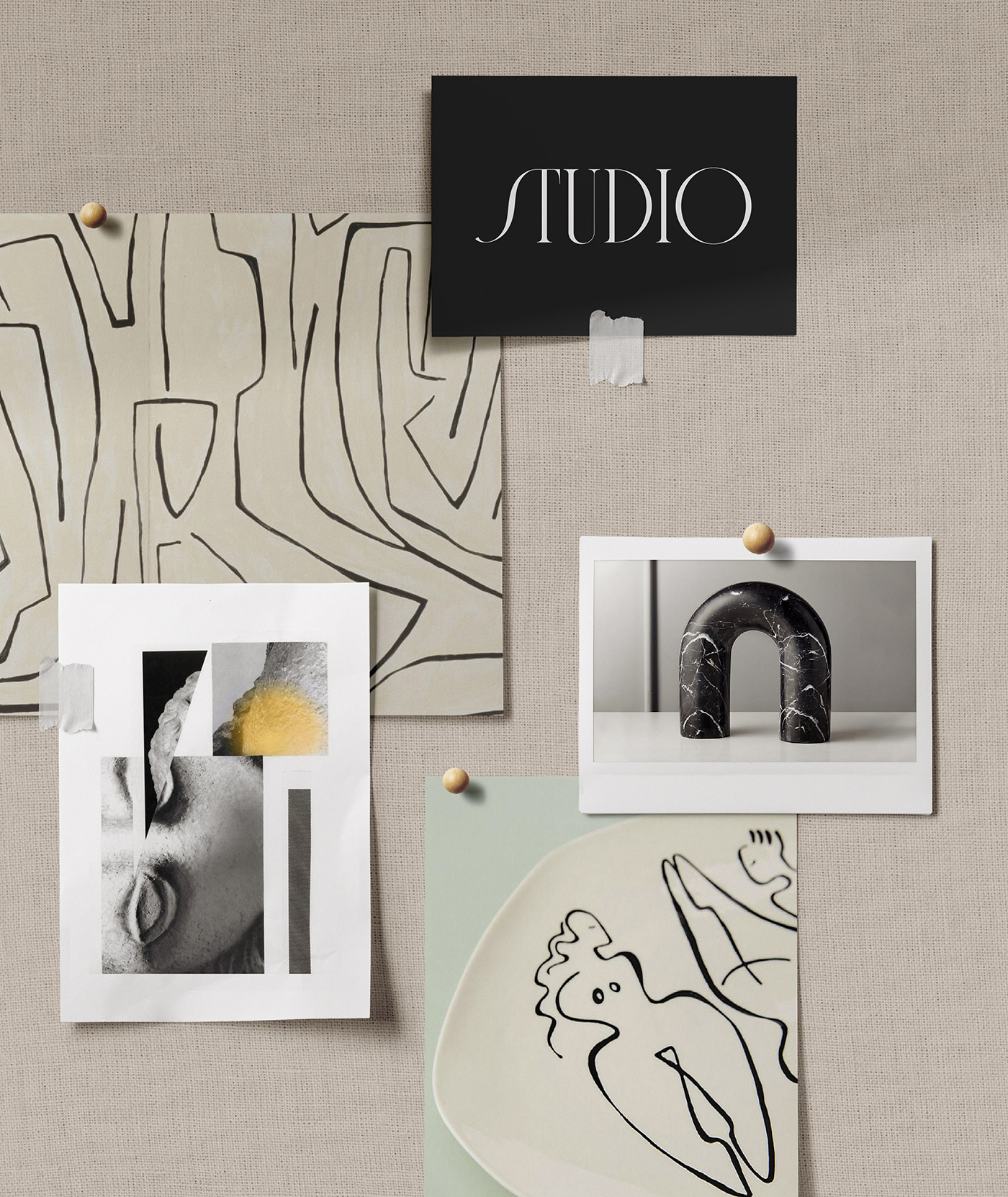 Resources
'Graffito' wallpaper: Kelly Wearstler
Art prints x 3: Chad Wys on Studio 6
Polished onyx object: CB2
Cacti lamp: CB2
Nimble object: CB2
Dahlia desk: CB2
Large Mozart bust: Vintage on Etsy
Credenza: CB2
Torso and pillar statue: Thrifted in Palm Springs
Floor mirror: CB2
Marble trays: West Elm
Totem vases: West Elm
Desk chair: Aeron by Herman Miller
Faux fiddle leaf plant: Home Goods
Brass candle holder: Target
Faux lemon tree: Target
Magazine holders: Target
Light fixture: West Elm
Lady tray: Anthropologie
Cross blanket: Pia Wallen